Heavy Rain Gusty Winds To Impact Travel At Most East Coast Airports
Heavy Rain Gusty Winds To Impact Travel At Most East Coast Airports
Travel ahead of the Thanksgiving holiday especially by air is at a record pace and the set up of a storm system and cold front in the Eastern US is not exactly good timing. We are going to see rainfall up and down the Eastern Seaboard from Southeast New England southward to Georgia as a cold front sweeps eastward. We also have severe weather risks today from North Carolina southwest to the Florida Panhandle and Alabama. East Coast air ports from Boston to New York City, Newark, to Philadelphia, Washington DC to Atlanta will see delays developing today and tonight and this includes all the smaller airports in between.

There is some positive news in all this and that is about the severe drought that has been ongoing from Virginia to Northern Georgia west to Mississippi and Louisiana.This system is a solid rain producer with 1 to 2 inch precipitation amounts from Southern New England and the Lower Hudson Valley southward all the way through the Southeast US. For some areas in the Deep South this is the first significant rainfall in over 2 months!
Clouds are increasing rather quickly as the low and cold front approach the Northeast. Rain will develop from west to east during this afternoon and we will see it become heavy at times tonight into Wednesday morning in most places from Eastern Pennsylvania to Southern New England. We have some cold air wedged into the Eastern US which means it will be very raw today with an east wind and highs just in the 40s.
SATELLITE WITH LIGHTNING STRIKES

WEATHER RADAR

During tonight a warm front pushing northward should force temperatures to rise into the 50s and it might even get to 60 in parts of South Jersey and points southward. Overnight we get the heavy rain and gusty southeast winds will reach 25 to 35 mph at times especially along the coast.
Rains will end from west to east Wednesday morning around or before daybreak in most places except for areas east of NYC where it will take a little while longer. Leftover clouds will linger in the afternoon. Highs will be in the upper 50s and lower 60s but those highs will likely occur early in the day and then ease as the day wears on.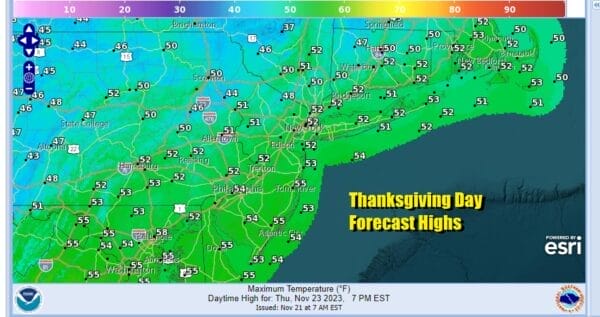 Gusty winds will develop overnight Wednesday night into Thursday morning especially along the coast making for rather breezy Thanksgiving but it will be dry and a little colder. Sunshine should dominate the day along with some passing clouds. Highs will be in the upper 40s and lower 50s. Gradually colder air will move in for Friday and Saturday with highs Friday in the 40s and Saturday highs will be in the upper 30s and lower 40s. Both days will be dry with some sunshine.
MANY THANKS TO TROPICAL TIDBITS FOR THE USE OF MAPS
Please note that with regards to any severe weather,  tropical storms, or hurricanes, should a storm be threatening, please consult your local National Weather Service office or your local government officials about what action you should be taking to protect life and property.
(Amazon is an affilate of Meteorologist Joe Cioffi & earns commissions on sales.)