DOWNLOAD MY NEW FREE JOESTRADAMUS WEATHER APP FOR ANDROID
Heavy Rain Flood Watch Coastal Flooding Continue Through Rush Hour
We are watching the satellite and radar loops this evening as low pressure over Lake Erie weakens and a secondary low develops in Chesapeake Bay. Heavy rain has broken out ahead of it which is going to make for slow wet evening commute. Flood Watch continues Southeast Pennsylvania, all of New Jersey, NYC, and the Lower Hudson Valley mainly south of Route 84.
This is going to be a quick inch to an inch and a half of rain with locally higher amounts. Timing suggests that the rains will end from Southwest to Northeast later this evening. The back edge is already close to Southwest New Jersey and Southeastern Pennsylvania so those areas could actually see improvement during the evening rush while it will end later across NYC north and east'; probably later in the evening. It should all be gone by midnight.
EASTERN SATELLITE

REGIONAL RADAR

LOCAL RADAR NEW YORK CITY
LOCAL RADAR PHILADELPHIA

There are no important changes to the weather going forward later this week. We should be dry and colder with some sunshine Tuesday through Thursday though cloud cover will be around from time to time. Temperatures will be in the 40s by day and 20s to lower 30s at night with no rain or snow through at least Thursday. A weak system approaches Friday and models seem rather weak with this.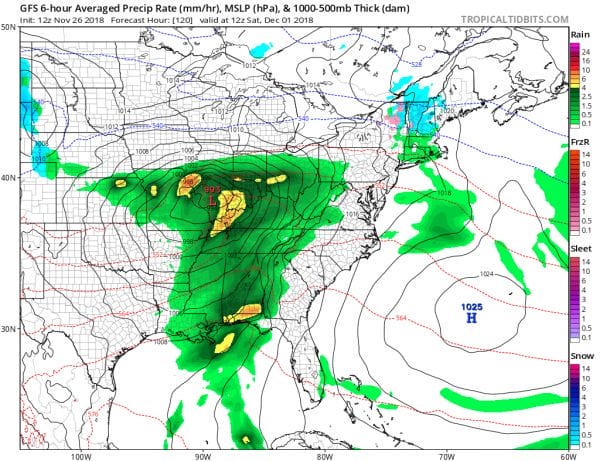 A stronger low will be approaching for the weekend and if it comes out faster than forecast like the GFS says then we could see rain here for Saturday lasting into at least part of Sunday. Models aren't all on the same page with this at the moment. The European is slower deeper and further west with this next low and would delay rain until perhaps Sunday with Saturday being mostly dry. We seem to be heading into December with an active busy pattern ahead and shots of cold air that will try and come down from Canada from time to time. We are still very early here in figuring out what the primary pattern will be for the upcoming winter…in case anyone asks.
SUBSCRIBE TO PATREON FOR A WEATHER EXPERIENCE FREE OF ADS, EXCLUSIVE VIDEOS FOR MEMBERS ONLY AND MUCH MORE…STARTS AT $2 A MONTH..MESSAGE ME AT ANY TIME

MANY THANKS TO

TROPICAL TIDBITS

FOR THE USE OF MAPS
Please note that with regards to any tropical storms or hurricanes, should a storm be threatening, please consult your local National Weather Service office or your local government officials about what action you should be taking to protect life and property.
LATEST JOESTRADAMUS ON THE LONG RANGE