HEATWAVE NEAR 100 DEGREES RECORD HIGHS POSSIBLE SUNDAY
HEATWAVE NEAR 100 DEGREES RECORD HIGHS POSSIBLE SUNDAY
No doubt about it folks it is hot and it is going to get hotter today and very hot on Sunday. All sorts of heat advisories, excessive heat watches and warnings are posted. Sunday we stand a chance to take out a few records especially in warmer urban areas where 100 degree is certainly possible
The satellite loop today shows blow off clouds from thunderstorms in Canada moving through northern New York State and Northern New England. This marks where the northern extent of the upper high is and we are sitting under mostly sunny skies here. This should be the case throughout the day. The upper high will suppress any pop up thunderstorms through the weekend and into next week so there really isn't anything that nature could provide to cool things down. In fact that would increase the humidity even more. The air has a distinctly tropical-ness to it; much like what you would see in places further to the south.
EASTERN SATELLITE

REGIONAL RADAR

Yesterday we saw our first day of 90 degree readings with the highest numbers in New Jersey where a few spots hit 93. Today we will add a few more degrees to these numbers and middle 90s is certainly attainable this afternoon.
TODAY'S FORECAST HIGH TEMPERATURES
Tonight's temperatures won't go much below 80 degrees in the warmer urban areas and most places will bottom in the 70s. This sets up a strong launching pad for Sunday when the upper ridge will be at its strongest and right overhead. This is why we are going for highs around 100 degrees with the areas surrounding the warmest urban centers having the best chance of hitting it like NYC, Newark, Philadelphia & Trenton.
SUNDAY FORECAST HIGH TEMPERATURES
Monday we have the upper high weakening and retreating slightly to the west. This is going to allow a weak backdoor front to push into coastal areas as the winds turn more southerly. This will lower temperatures somewhat but widespread 90s are still forecast. The axis of the highest temperatures will shift to the southwest of NYC Monday where mid to upper 90s are forecast however lower 90s will be more commonplace from NYC & the Hudson Valley eastward and it will be cooler than that along the shore.
MONDAY FORECAST HIGH TEMPERATURES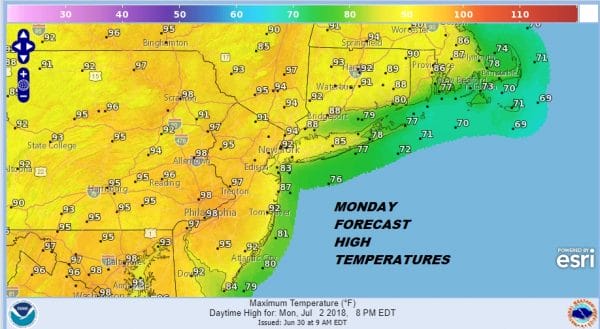 As far as the rest of next week is concerned it is more of the same into Friday with highs in the 90s each day and lows in the 70s. We could see the chance for pop up showers and thunderstorms beginning Wednesday 4th of July but any thunderstorms should be widely scattered in nature. Genuine relief could arrive next Friday as a stronger cold front approaches from the northwest and the ridge in the east finally breaks down enough to allow it to pass through. Longer term it seems we could be going back to a pattern that is more variable and that we will start getting some air masses from Canada again every 3 or 4 days. It will still get hot from time to time but the duration of the heat will be much shorter.

GET JOE A CIGAR IF YOU LIKE 
LATEST JOESTRADAMUS ON THE LONG RANGE