Heatwave Day 4 Excessive Heat Warning Inland
Heatwave Day 4 Excessive Heat Warning Inland
Today will be the 4th day in a row of highs in the 90s (for some coastal areas it is 3). There is on slight difference today with regards to more of a south wind but it appears that the impact from this will be minimal and confined to a few coastal areas where no heat advisory is posted as the map above showes. This would be for the case for Coastal Connecticut, the southern half of Long Island south of the Long Island Expressway, and coastal New Jersey. Otherwise it is another day where we have a heat advisory which is advising us all that it is hot out..and and excessive heat warning which is like your mother shouting at you that it is very hot out. Nonetheless common sense rules here and be sure do drink plenty of water, etc etc etc. I don't have to draw you a diagram.
EASTERN SATELLITE

REGIONAL RADAR

Yesterday morning some clouds appeared overhead which may have be responsible for cutting down the daytime heating by a degree or two and most areas missed breaking over 100 degrees. Today we don't seem to have that issue and we do have lots of sunshine so this could push some inland areas close to 100 degrees this afternoon.
MONDAY FORECAST HIGH TEMPERATURES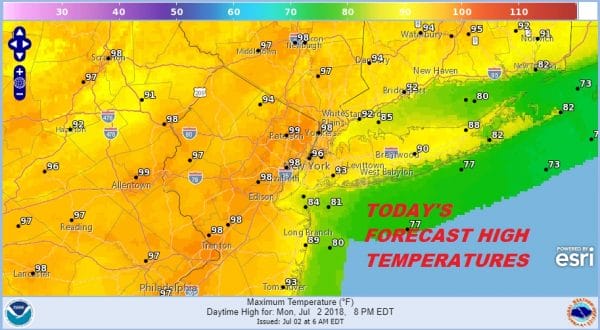 Some pop up thunderstorms may come into the mix beginning on Tuesday but the real relief comes Friday with a strong cold front and the possibility I believe of some rather active thunderstorms later Friday afternoon and evening. This will lead to a beautiful weekend of sunshine and low humidity.
GFS FRIDAY JULY 6, 2018 8PM
Until then we will continue to just bake away in the heat and humidity. As far as heatwaves go, as measured by consecutive days of 90 degrees+ this will come no where close to any records.

GET JOE A CIGAR IF YOU LIKE 
LATEST JOESTRADAMUS ON THE LONG RANGE