Heatwave Day 3 Record Highs Near 100 Degrees Urban Centers
Heatwave Day 3 Record Highs Near 100 Degrees Urban Centers
Temperatures this afternoon made their run into the low and mid 90s. 3pm readings were close to the highs of the day in most places. There was hardly a cloud in the sky today. Dew points were in the low to mid 60s which was somewhat on comfortable. Now we look ahead to Sunday which will be the hottest day of this long stretch that will last until next Friday.
Here is a close up view of the spots that could go to 100. They will mainly be concentrated around the warmer urban centers like NYC, Newark & Philadelphia.
The satellite loop shows very little as far as cloud cover is concerned. The clouds to the north are moving west to east as that is the top off the upper high and the clockwise circulation aloft. The heat dome will be sitting right overhead on Sunday producing maximum heating.
EASTERN SATELLITE

REGIONAL RADAR

Radars remain an non issue until maybe Wednesday the 4th of July when there is the chance for a few pop up widely scattered late day thunderstorms. Otherwise the issue for Monday will be a bit of back door front that gets to about Long Island and turns the winds more southerly. This will probably knock the highs down by about 5 degrees or so in most places. It will still be in the low to mid 90s inland but cooler 80s along the coast.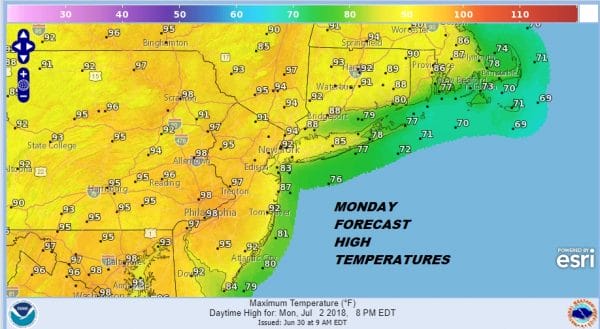 Real relief will come next Friday with a strong cold front and a good chance for thunderstorms Friday afternoon and evening followed by cooler air and lower humidity over next weekend. Otherwise it is 90 or better every day this week.

GET JOE A CIGAR IF YOU LIKE 
LATEST JOESTRADAMUS ON THE LONG RANGE