Heatwave Continues Into Friday Highs in the 90s Late Week Thunderstorms
Heatwave Continues Into Friday Highs in the 90s Late Week Thunderstorms

Our hot humid weather pattern continues today as an upper ridge in the Eastern US continues to hold firm. To the east we have Post Tropical Cyclone Idalia sitting southeast of Nova Scotia and weakening. Once this system gets out of the way we can start the process of breaking down the upper high in the Eastern US. Until then it is hot and humid and that certainly describes our weather today. Sunshine will take highs into the low and middle 90s in many locations and we could see some record high temperatures being set in some places.
SATELLITE WITH LIGHTNING STRIKES

WEATHER RADAR

As far as any rain is concerned, the upper ridge creates a stable atmosphere so there will be no shower or thunderstorm activity to worry about today. Tonight will be very warm and humid with lows by Wednesday morning in the upper 60s and lower 70s. Wednesday dayside will be sunny hot and humid with highs again in the low and middle 90s.
The heatwave will conitnue Thursday however an upper trough and cold front will approach from the Great Lakes and Ohio Valley. This opens the door for the possibility of some showers and thunderstorms late Thursday and Thursday night. Dayside Thursday will be hot and humid again with sunshine taking highs to the low and middle 90s.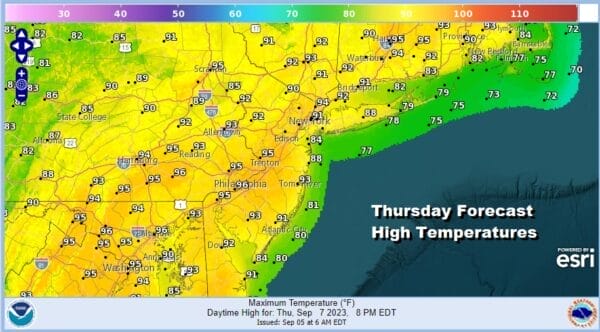 This cold front is going to have a difficult time moving offshore and so it will stall out Friday. Also the upper air pattern suggests that the first upper trough will hang back to the west as another upper trough drops southeast from the Plains into the Ohio Valley. This will likely leave us in a very warm and humid pattern with showers and thunderstorms runnning around Friday and through the weekend.
Also in the long range as all the global models show, on the lower right of the GFS loop you will see what will likely be at least a category 3 hurricane moving northwestward, passing well east of the Bahamas and then turning northward early next week. The upper trough that develops from the Great Lakes to the Ohio Valley will need to be watched closely in the coming days. A stronger deeper trough in that position could bring a hurricane closer to the Eastern Seaboard. While we lean against that idea at the moment, we can't completely rule it out at this point and all of this is a week away from being part of a serious weather conversation. Right now a system in the Tropical Atlantic that becomes this hurricane models are showing, is likely to become a tropical depression or a tropical storm later today or tonight. In the meantime the heatwave continues for at least another 3 days including today.
MANY THANKS TO TROPICAL TIDBITS FOR THE USE OF MAPS
Please note that with regards to any severe weather,  tropical storms, or hurricanes, should a storm be threatening, please consult your local National Weather Service office or your local government officials about what action you should be taking to protect life and property.
(Amazon is an affilate of Meteorologist Joe Cioffi & earns commissions on sales.)