Heatwave Begins Today 90 Degree Plus Highs Next 5 Days

After last nights thunderstorms and heavy rains that hit most but not all areas, we have arrived at the start of the summer's first real heat wave. I don't regard 3 days of 90 plus as a heatwave. For me it is 5 days and it seems that we should be getting to 5 days which will take us through Saturday.
This puts us in high humidity as well through at least Thursday. Dew points will be in the middle 60s today and then rise to the mid 60s to near 70 Wednesday and Thursday so uncomfortable will be the word of the day. As for high temperatures we will be in the low to middle 90s both day and Wednesday. Nights will be very warm and humid with most lows in the upper 60s to middle 70s. Satellite views are clear as are radars. Other than an isolated downpour or thunderstorm, no rain is forecast through Wednesday.
SATELLITE

WEATHER RADAR

Moving on to Thursday we have another so called cold front which is really more of a dew point front coming through. This will be a hot and very humid day. We will throw in the chance for thunderstorms and there is some severe weather risk from Northern New Jersey northeast to New England. We will focus on that more tomorrow. Temperatures Thursday will reach the low and middle 90s.
Once the front passes we have another situation where the air behind the front is just as hot as the air ahead of it. There may be some slight dew point relief but only slight. It is back to sunshine Friday with highs mostly 90 to 95 degrees.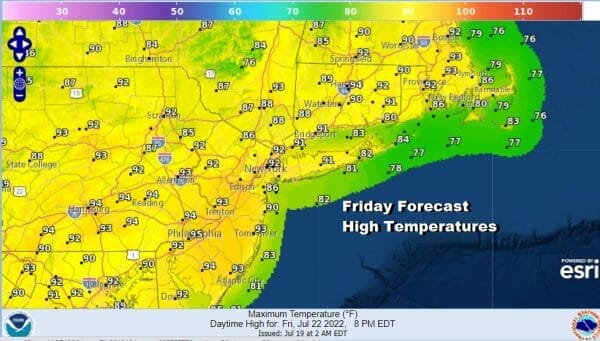 As for the weekend we will likely see highs reaching the 90s both Saturday and Sunday with sunshine both days. Sunday temperatures might be a degree or two lower than Saturady.  Another cold front arrives late Sunday with the chance for showers and thunderstorms but much of the weekend will be rain free. There will be a little humidity relief early next week as the wash rinse repeat cycle continues.
Please note that with regards to any severe weather,  tropical storms, or hurricanes, should a storm be threatening, please consult your local National Weather Service office or your local government officials about what action you should be taking to protect life and property.