HEATING SYSTEMS RUNNING WITH COLD AIR HERE
Heating systems haven't exactly been running night and day over the last 6 weeks or so. It only figures that with heating oil priced under 2 dollars a gallon and the lowest since I can't remember, you haven't had to use much of it. But with cold air moving in today you are going to use your heating system to keep warm. Mine is firewood mostly supplemented by oil when I get a little lazy. I still have Hurricane Sandy wood to finish.
Temperatures have fallen below freezing in many areas as a cold front has moved on through and some areas this morning are down in the teens. Temperatures will be going nowhere today especially with clouds around.
Radars are showing some ocean effect snows going on across Southeast New England and over parts of Eastern Long Island. A burst of snow can't be ruled out today in a few localities which might even whiten up the ground in spots. Lows tonight will be in the teens and single digits.
Tuesday we will see sunshine and a few passing clouds with most highs in the 20s to around 30. Temperatures will moderate Wednesday and Thursday with some sun and clouds and highs should be back into the upper 30s and lower 40s Wednesday and into the 40s on Thursday. Friday we will begin to see an onshore flow which will keep temperatures on the lower end of the 40s for the most part. Lots of questions for the weekend and into early next week with a rather complex looking scenario which models continue to have all sorts of trouble with. Very cold air may be setting up for a few days next week. We will address all the possibilities in our long range posts later today. Hope your heating systems are in full working order!
NATIONAL WEATHER SERVICE SNOW FORECASTS
LATEST JOESTRADAMUS ON THE LONG RANGE
Weather App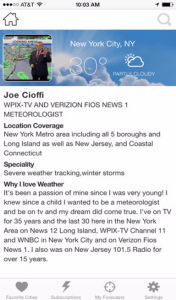 Winter is here! Don't be without Meteorologist Joe Cioffi's weather app. It is a complete weather app to suit your forecast needs. All the weather information you need is right on your phone. Android or I-phone, use it to keep track of all the latest weather information and forecasts. This weather app is also free of advertising so you don't have to worry about security issues with your device. An accurate forecast and no worries that your device is being compromised.
Use it in conjunction with my website and my facebook and twitterand you have complete weather coverage of all the latest weather and the long range outlook. The website has been redone and upgraded. Its easy to use and everything is archived so you can see how well Joe does or doesn't do when it comes to forecasts and outlooks.
Just click on the google play button or the apple store button on the sidebar for my app which is onMy Weather Concierge. Download the app for free. Subscribe to my forecasts on an ad free environment for just 99 cents a month.
Get my forecasts in the palm of your hand for less than the cost of a cup of Joe!