Heating and Air Conditioning Required?
Heating and air conditioning in December? You certainly won't need heating and you may be tempted by air conditioning. We will have one more day of record highs around the area before a cold front finally puts an end to record high temperatures. At least heating systems continue to just sit there unused even if heating oil prices are at their lowest levels in years. We will see more clouds around today with temperatures in the 60s everywhere. You know things are crazy when flies are resurrected from the dead and a south southeast wind cools you off in December instead of heating you up.  These are the forecast highs for today which are a little lower than Sunday's highs because of clouds but they are still high enough to set records. These numbers could be higher should the sun break through the clouds in the morning hours before the heavier clouds and showers arrive later in the day. The highs for Tuesday might be the same temperatures though they may be leftover from the overnight.
Wednesday will be the much cooler day with highs in the lower 50s which though cooler, will still be some 10 degrees above normal!
Now as far as the rain goes it will arrive in New York City and Long Island during the mid to late afternoon and should be done during the early morning hours around 2am or so.

Some of the downpours could be heavy and there might even be a thunderstorm however the total rainfalls will probably be a little disappointing.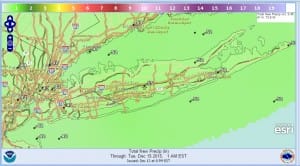 Everything however does appear on schedule for a shot of cold air for this coming weekend and we might actually have 2 days of normal temperatures or even a little below normal. Meanwhile on the road to that cold air low pressure will develop on a cold front and move up the coast with rain on Thursday and this could at least give us some much needed moisture. It is unusual but we will be getting rain twice in one week! And don't be surprised if a few flurries fly here on Saturday as the core of the cold air moves overhead!  It will be the closest we get to snow this month. Next week another warmup will ensue though perhaps not as extreme or as long lasting as this one.
JOESTRADAMUS LATEST ANALYSIS ON THE BLOWTORCH WEATHER PATTERN
RAIN FOR MONDAY LOOKS LESS IMPRESSIVE
JOESTRADAMUS VIDEO ANALYSIS ON THE LONG RANGE
NEW YORK CITY & HUDSON VALLEY FORECAST