Heat Humidity Today Setting Up For Heavy Rains Thunderstorms
Sunday Into Monday
Heat Humidity Today Setting Up For Heavy Rains Thunderstorms
Sunday Into Monday
We have another hot and humid day ahead of us as we sit in a bit of a "no man's land" between a front offshore and a weather front well to the west in the Ohio Valley. This is going to lead to another day of sunshine and temperatures are going to be on the hot side. Humidity levels are high making it very uncomfortable. Highs today in Eastern Pennsylvania to Southern New England will be in the upper 80s and lower 90s.
The satellite loop shows very little in terms of cloud cover. Even though hot temperatures and high dew points can often set off thunderstorms, they will probably be few and far between and 99 percent of you probably won't see anything other than an isolated shower or thunderstorm.
SATELLITE

WEATHER RADAR

This is also likely to be the last day of 90 degree plus highs as winds are forecast to shift area wide to the southeast Friday and Saturday and that will shave off about 5 degrees or so from the highs. Thursday night will be warm and humid with lows in the mid 60s to lower 70s. Friday look for sunshine and clouds. Highs will be in the mid to upper 80s inland and upper 70s to lower 80s at the coast.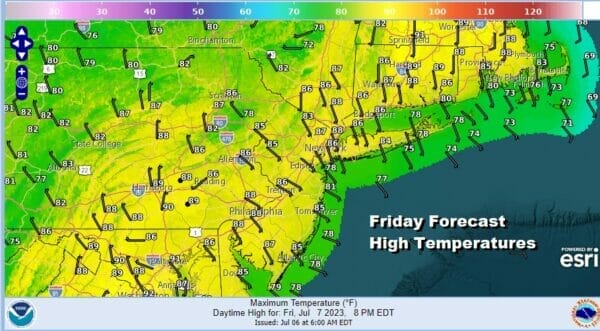 Friday will also see a weather front approach and it will be another one of these fronts that slows down as it reaches the coast. There is the likelihood for a few thunderstorms late Friday afternoon and evening and the best chances for such thunderstorms will be inland of the coast, from the Western New Jersey Pennsylvania state line westward. We also do not anticipate these thunderstorms to be severe in nature at this point.
As far as the weekend is concerned, Saturday will be the better of the two weekend days in the Eastern US. The lingering front could trigger a shower or thunderstorm in the afternoon and evening. Otherwise it should be no worse than partly sunny, very warm and humid. Once again the wind will be from the southeast and that will hold temperatures down to highs in the mid to upper 80s.
This southeast flow is going to be juicing up the atmosphere for Sunday as low pressure moves out of the Southern Plains and heads east through the Tennessee Valley and then northeast up the coast. There will likely be an area of heavy rain and thunderstorms that will move along this track. 2 to 4 inch rainfalls are possible as the low moves along and then turns northeastward.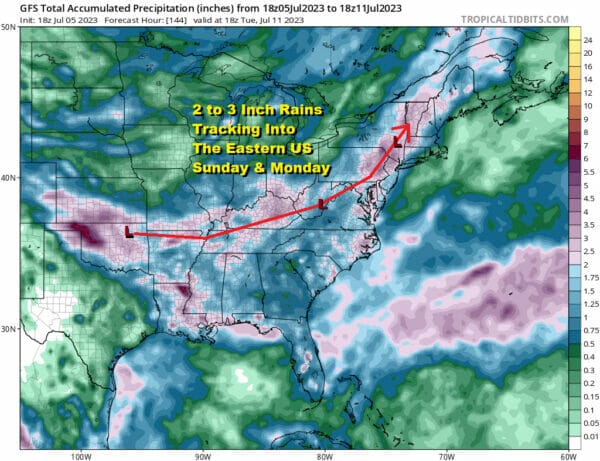 Sunday we will see clouds from the get go and rain will develop from south to north. The heaviest rain again will be west of the coast as the rainfall map above shows. Given the recent rainfall we have seen, it is likely that the potential for flash flooding is on the table but we will need to wait until the weekend to figure that part out.
Sunday highs will reach into the 80s until the rains come and then temperatures will likely fall back through the 70s. Some thunderstorms will be in the mix as well and I would not be surprised to see some isolated severe thunderstorms in the mix. The period of rain will likely last 6 to 8 hours before tapering off during Sunday night. A short break follows early Monday and the a second wave of rain follows later Monday into early Tuesday.
MANY THANKS TO TROPICAL TIDBITS FOR THE USE OF MAPS
Please note that with regards to any severe weather,  tropical storms, or hurricanes, should a storm be threatening, please consult your local National Weather Service office or your local government officials about what action you should be taking to protect life and property.
(Amazon is an affilate of Meteorologist Joe Cioffi & earns commissions on sales.)