Heat Humidity Thunderstorms Next 3 Days Severe Weather Risk Inland

Weather in 5/Joe & Joe Weather Show Latest Podcast
Heat Humidity Thunderstorms Next 3 Days Severe Weather Risk Inland
We are in the middle 10 days August and we are certainly in the August dog days complete with heat humidity and occasional thunderstorms running through from to time and from place to place. The atmosphere is juiced up with humidity in a big way creating a lot of instability. Thunderstorms are even able to hold their own during the overnight periods as we saw this morning with some areas seeing scattered cells rolling through.
All this does is add to the humidity and when the sun goes to work today it will take temperatures up to the low and middle 90s. It also sets us up for some severe weather risk inland and the Storm Predicition Center has a marginal risk for severe weather for inland New Jersey and points west and north. We saw some strong to severe thunderstorms develop yesterday evening in some places and I suspect we could see them again late today.
SATELLITE

Some clusters of showers and thunderstorms are showing up on the radars this morning moving from west to east. These could produce heavy downpours as they go by. Then some sunshine will follow to set up the next round of instability and thunderstorms this evening.
WEATHER RADAR


Once any storms are done this evening it will leave us in a very warm and humid state with some patchy fog. Overnight lows in many areas will have a tough time breaking under 70 and most lows will be in the upper 60s inland and middle to upper 70s in warmer urban settings.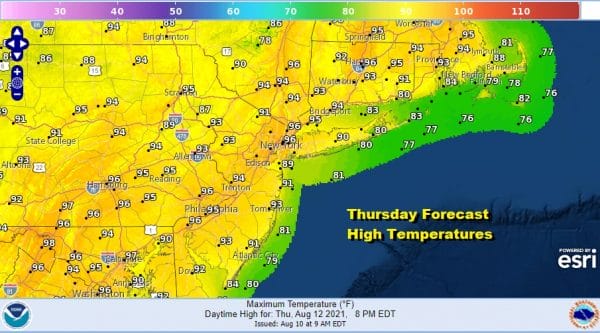 Thursday remains the hottest day of the week as we will go through it all over again with sunshine taking highs to the mid and upper 90s. Once again this will create an enormously unstable atmosphere and once again we see the Storm Prediction Center indicating severe weather risk though this time around it extends further east to near the coast.
The severe weather risk zone for Friday is almost the same as a cold front approaches. This should be the last day of highs in the 90s as the front passes and allows for a slightly cooler lower humidity air mass to begin building in over the weekend and into early next week. This should bring some dew point relief. Sunshine will take highs to the low and middle 90s and watch again for scattered thunderstorms.
Over the weekend the next high builds across Upstate NY and New England which is going to create more of an onshore flow. That alone will hold temperatures back some but I'm thinking that sky conditions both Saturday and Sunday will be no worse than partly sunny. Also we should see little if any shower or thunderstorm activity over the weekend.
Next week will prove to be an interesting one with a high to the northeast, a building ridge in Southeastern Canada and what appears to be Tropical Storm Fred in the Eastern Gulf of Mexico moving northward. The GFS model is to the right of the others especially the hurricane tracking models which have moved left (further west) and a little stronger in the longer term. There are also some other bizarre looking possibilities given the state of the upper atmosphere next week along the East Coast. That will be subject matter tonight at 7:30pm on the Joe & Joe Weather Show.

Please note that with regards to any severe weather,  tropical storms, or hurricanes, should a storm be threatening, please consult your local National Weather Service office or your local government officials about what action you should be taking to protect life and property.