Heat Humidity Severe Weather Risk Saturday Changes Long Range For Next Week

Weather in 5/Joe & Joe Weather Show Latest Podcast
Heat Humidity Severe Weather Risk Saturday Changes Long Range For Next Week
We have come to an end of another summer week as we move through the warmest time of the year climatologically speaking. Averages are at their highest into early August before they begin their long decent into winter. Today we finish the work week hot and humid with sunshine. Thunderstorm risk today is inland and should be scattered in nature though given the very warm humid conditions some of these storms could be on the strong side.
Temperatures this afternoon will top in the upper 80s to lower 90s across the region. Temperatures will be a little cooler along the shore for some relief there. The satellite shows mostly cloud free conditions with clouds along with showers and thunderstorms well north into Western NY and Northwest Pennsylvania. That is where we will see some showers and thunderstorms and they won't come close to us until Saturday when the front begins its approach.
The Storm Prediction Center has added a narrow area of marginal risk cutting across Northeastern Pennsylvania and Northern New Jersey to the Hudson Valley and New England this afternoon. I was a little surprised by this. Storms should be scattered and short range models at least aren't very bullish about widespread activity. Nonetheless we will keep an eye on this.
SATELLITE

WEATHER RADAR


Saturday sets up like today with hot and humid conditions. High temperatures will once again reach the upper 80s and lower 90s with temperatures cooler at the shore. This should be the last hot and humid day for a while as the pattern changes going into next week.
The cold front to the west and an upper trough will approach late in the day and that will open us up to the possibility of late day and evening thunderstorms. The Storm Prediction Center has indicated a marginal risk for severe weather mostly inland.
This front will be slowing down and hanging around for Sunday. Temperatures will be lower on Sunday due to the proximity of the front. Clouds will be around too to hold temperatures down. Ripples on the front will create opportunities for showers and thunderstorms. The main threat from these Sunday will be heavy rain. Temperatures will reach into the 80s and the humidity will remain on the high side.
Moving on to next week the upper flow changes to northwest and a series of upper troughs and cold fronts will be moving through. As each one approaches we will have the chance for showers and thunderstorms. It will not be hot ahead of these fronts as each one takes temperatures down a notch and there isn't much time for warm ups in between.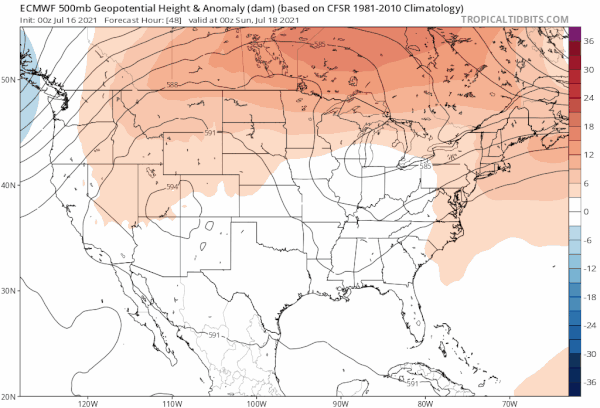 It seems that the best chances for showers and thunderstorms will come late Tuesday, late Wednesday and late Friday of next week. Temperatures next week will likely be in the 80s each day with clouds and sun. The last trough is the strongest and this could bring down a decent shot of lower humidity next weekend.

Please note that with regards to any severe weather,  tropical storms, or hurricanes, should a storm be threatening, please consult your local National Weather Service office or your local government officials about what action you should be taking to protect life and property.