Heat Humidity Return Next Week
Heat Humidity Return Next Week
One thing about troughs in the east is when they lift out, if there is no trough immediately behind it, you get a several day warm up. Looking at the week ahead the next trough to attempt to drop into the Eastern US won't happen until late in the week. Once this weekend jet stream dip and coastal low pull out we will see a return of heat and humidity for a few days at least. The heat will not be extreme but it will be enough to push temperatures into the upper 80s and lower 90s beginning Tuesday of next week and lasting until Thursday. With the heat will come a gradual increase in humidity. However the ridge that builds in the east is rather flat which lends to the idea that the heat should not reach extreme levels.
HEAT HUMIDITY NEXT WEEK ABOVE NORMAL TEMPERATURES IN THE NORTHEAST
The warmest weather relative to average is in the Northeast & Middle Atlantic States with the biggest departures from normal as you go northeast into Northern New England. The scope is rather narrow as much of the Great Lakes & Plains will be below average.
By next Thursday weak troughing is developing again as the first of two short waves begin to swing around. This should being the next cold front late Thursday or Thursday night. There is a stronger second trough behind it and both the GFS & European model seem to want to make something with this trough as it drops into the Midwest.
The character of the troughs are different on the two models but both would imply some sort of cold front approaching and slowly moving through next week. It could wind up being very warm and humid ahead of the second front next weekend but that is a short range issue to work out.
Beyond the 10 day period it appears that the GFS model wants to pull the jet stream up into Canada with an east west ridge from coast to coast which could mean a longer stretch of 4 or 5 days of very warm to hot conditions though that comes late in the forecast period which we know can change somewhat between now and then. It would signal the August  dog days should this verify.
MANY THANKS TO TROPICAL TIDBITS FOR THE WONDERFUL USE OF THE MAPS
GET JOE A CIGAR IF YOU LIKE!
LANDSCAPE COMPANIES FOR YOUR SPRING SUMMER FALL NEEDS
             LONG ISLAND                                ROCKLAND COUNTY                   Connecticut
     ROCKLAND COUNTY                         TRI STATE SNOW REMOVAL                           JOHNSTOWN PA
FiOS1 News Weather Forecast For Long Island
FiOS1 News Weather Forecast For New Jersey
FiOS1 News Weather Forecast For Hudson Valley
NATIONAL WEATHER SERVICE SNOW FORECASTS
LATEST JOESTRADAMUS ON THE LONG RANGE
Weather App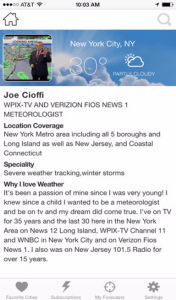 Don't be without Meteorologist Joe Cioffi's weather app. It is really a meteorologist app because you get my forecasts and my analysis and not some automated computer generated forecast based on the GFS model. This is why your app forecast changes every 6 hours. It is model driven with no human input at all. It gives you an icon, a temperature and no insight whatsoever.
It is a complete weather app to suit your forecast needs. All the weather information you need is right on your phone. Android or I-phone, use it to keep track of all the latest weather information and forecasts. This weather app is also free of advertising so you don't have to worry about security issues with your device. An accurate forecast and no worries that your device is being compromised.
Use it in conjunction with my website and my facebook and twitter and you have complete weather coverage of all the latest weather and the long range outlook. The website has been redone and upgraded. Its easy to use and everything is archived so you can see how well Joe does or doesn't do when it comes to forecasts and outlooks.
Just click on the google play button or the apple store button on the sidebar for my app which is on My Weather Concierge. Download the app for free. Subscribe to my forecasts on an ad free environment for just 99 cents a month.
Get my forecasts in the palm of your hand for less than the cost of a cup of Joe!