Heat Humidity Only Scattered Thunderstorms Today
Week Ahead Brings Relief Late Week

Hot humid weather continues on this Sunday and for many areas it will be the 6th consecutive day of highs above 90 degrees. Winds today are turning more southwest and while we may have some patchy clouds will also have a fair amount of sunshine. Temperatures this afternoon will reach the lower 90s and some hot spots could push it to 94 or 95. From Eastern Pennsylvania to Southern New England we will leave in the slight chance for an isolated shower or thunderstorm but those chances are low. Thanks to the Bermuda high, humidity levels remain ridiculous and discomfort levels high.
SATELLITE

WEATHER RADAR

Tonight will just be another very warm and very humid night with most lows in the 70s to near 80 in warmer urban settings. The heat ridge to our west and the Bermuda high to the east will reach its peak strength on Monday and that will bring temperatures up into the low and middle 90s for high temperatures.
Monday could very well be the last day of very hot weather in this current streak. Tuesday will be very warm to hot and it will be humid but highs will be a shade lower, in the upper 80s to around or just over 90. Late in the day a weather front approaches and there could be a shower or thunderstorm with that.
The front will stall overhead for Wednesday leaving us still in a very warm and humid state but there could be more in the way of showers and thunderstorms running around. Highs will be just in the 80s. This will break the heat from the perspective of consecutive 90 degree days. It will also bring some much needed rain to a wider portion of the area as a couple of waves move along the frontal boundary.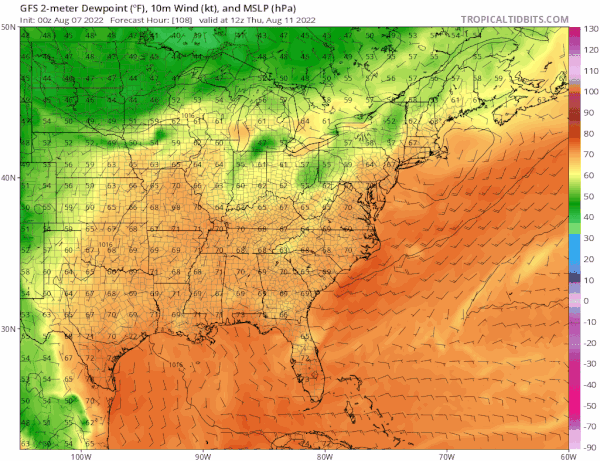 A very strong upper trough will be driving southeastward into New England Thursday and into the weekend which will finally bring an end to the heat and humdity. The real push will come Friday as a second front passes and dew points will plunge into the 40s. We should see leftover clouds Thursday with highs in the low to middle 80s. Then pleasant air comes in Friday with highs probably in the upper 70s to lower 90s. That cooler dry air should hold us up through next weekend!
Please note that with regards to any severe weather,  tropical storms, or hurricanes, should a storm be threatening, please consult your local National Weather Service office or your local government officials about what action you should be taking to protect life and property.