Heat Humidity Increase Thunderstorms Late Wednesday Thursday Very Hot Weekend
Yesterday was probably the last day of truly comfortable weather. We will see the humidity inch up today and it will still be relatively reasonable before the dew points shoot up tonight and Wednesday as we set up for truly hot and uncomfortable conditions for the rest of the week and the weekend. The one minor exception as far as temperatures are concerned is Thursday where highs will be in the 80s thanks to clouds and some thunderstorms. Otherwise it is hot and humid Wednesday through Sunday.
SATELLITE

The latest satellite picture above doesn't show much in the way of clouds with most moving through to our north. To the west is where the tropical moisture is ahead of an upper trough combining with the remnants of Tropical Storm Barry. This will be playing through here Wednesday with thunderstorms. The greatest threat from these storms will likely be flash flooding. There are no thunderstorm issues today and tonight. Sunshine today takes temperatures to the upper 80s and lower 90s.
REGIONAL RADAR

On to Wednesday with temperatures shooting up to between 90 and 95 degrees and dew points rising into the 70s. Look for clouds and some sunshine and it will be very uncomfortable. Thunderstorms are likely to develop in the afternoon and into tomorrow night. The Storm Prediction Center has a marginal risk of severe weather forecast for Wednesday into Thursday.
With the biggest threat being rain and flash flooding we will be seeing variable rainfall amounts but certainly some of these thunderstorms could produce several inches of rain locally so it will be a matter of keeping an eye to the sky late Wednesday afternoon. These storms are likely to be slow moving. The upper trough combining with tropical moisture from the remnants of Barry will move east Wednesday night but there still could be lingering clouds with scattered thunderstorms on Thursday.
Friday  begins a 3 day stretch of truly hot humid oppressive weather with highs reaching the mid to upper 90s. Heat indices will be somewhere around 105-110 which is truly unreasonable. Saturday will likely be the worst of the 3 day stretch but lets make no mistake. All three days will be hot, steamy, and difficult. Thunderstorms will be few and far between all three days if there are any at all.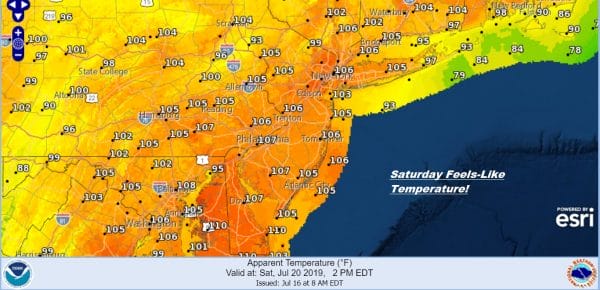 Sunday will essentially be wash rinse repeat with highs in the mid to upper 90s. A real break in all this should arrive late Monday in the form of a cold front. There will be thunderstorms ahead of it late in the day Monday. This should be the last day of widespread 90s in this current stretch. Gird your lions folks for the hottest weather of the summer (so far)!
MANY THANKS TO

TROPICAL TIDBITS

FOR THE USE OF MAPS
Please note that with regards to any tropical storms or hurricanes, should a storm be threatening, please consult your local National Weather Service office or your local government officials about what action you should be taking to protect life and property.