ANOTHER DISGUSTING DAY HEAT HUMIDITY 90 TO 95
HEAT INDICES OVER 100
COOLER ONSHORE FLOW CLOUDS RAIN WEEKEND
Another day of horrible bad hair weather is here and we are seeing a minimal amount of cloud cover this morning. Temperatures will reach 90 to 95 this afternoon and heat indices will be over 100 again in some places. It is an oppressive start to the work week and as the kids get back to school. There could be a pop up shower or thunderstorm this afternoon and evening but they will be very widely scattered and if they do develop they will likely not last more than an hour or so on the radars. Most of you won't see a thing. There is nothing on the radars this morning.
EASTERN SATELLITE

REGIONAL RADAR

There are two more days of this but there will be a slight difference on Wednesday. A weak back door cold front to the north will slide through and weaken as it does so. Wednesday we will have a wind coming in from off the ocean rather than from the west or southwest. This should trim highs by a few degrees and we will see some clouds in the mix as well. Look for highs more in the 85 to 90 degree range with 90 well inland and 80 or less along the immediate coast. Thursday will be the last day of this as a cold front approaches.
There will be thunderstorms late in the day Thursday and it looks like there could be a risk of severe weather from Eastern Pennsylvania to Southern New England. This front is going to move to the south and stall out much like last week's front. However this time there is going to be a trough in the upper atmosphere coming out of the Southern Plains as low pressure develops. That low heads to the Great Lakes over the weekend. First thing will be the impact on temperatures which Saturday and Sunday will be much cooler…highs just into the 70s.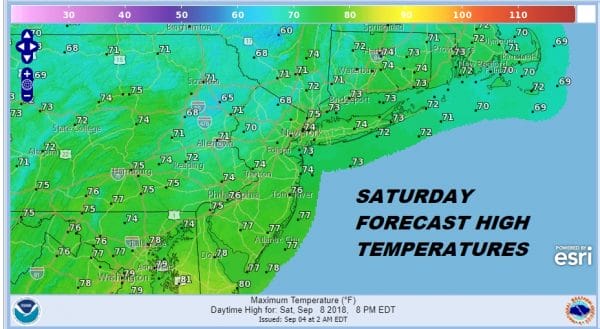 The second issue will be the chance for showers. It seems that this weekend some showers will be in the mix. Saturday looks to be the better of the two weekend days as the high to the north builds in. Then the front backs up as a warm front Saturday night and Sunday and showers come into the mix.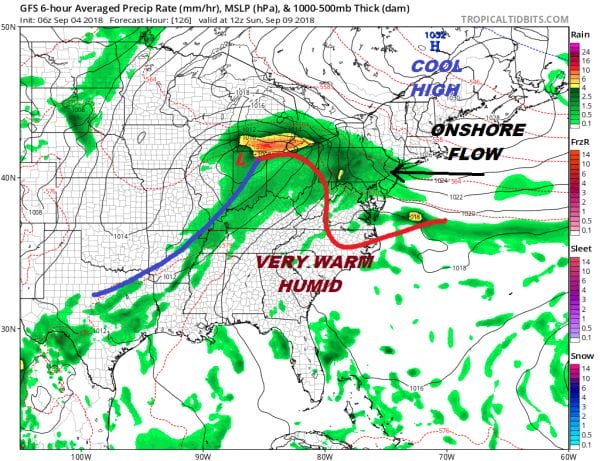 Some of the remnant moisture from Tropical Storm Gordon will be involved in this system as it moves to the northeast. I don't think it will have much impact to rain amounts. At this point Tropical Storm Florence is still well to the east. That continues to remain a big forecast puzzle as we decipher the jet stream pattern across North America and the the North Atlantic and how all these pieces come together. Don't expect any answers anytime soon regarding this. We addressed the issues with Tropical Storm Florence yesterday on our JOESTRADAMUS post and it is worth a read. We will examine how all this changes with weather models later today.
MANY THANKS TO

TROPICAL TIDBITS

FOR THE USE OF MAPS
Please note that with regards to any tropical storms or hurricanes, should a storm be threatening, please consult your local National Weather Service office or your local government officials about what action you should be taking to protect life and property.
LATEST JOESTRADAMUS ON THE LONG RANGE