Heat Advisory Hot Humid Next Several Days Cooler Rain Late Week
Heat Advisories are posted which is reminder that it is summer and that it tends to be hot and humid sometimes. Of all the advisories out there that states the obvious this one take first prize. So with a collective "duh"…we note that highs near or just over 90 will feel like it is 95 or so. Again another collective "duh" or an "obvi" is in order.
SATELLITE

REGIONAL RADAR

Some areas saw the start of the day with the usual morning low clouds and fog but it has burned off quickly. There isn't much cloud cover on the satellite and the chance for a thunderstorm this afternoon or evening is fairly minimal. Highs will reach 90 or the low 90s in most places.
Wash rinse repeat tonight as it will be very warm and humid with lows in the upper 60s to mid 70s. Some low clouds and fog will develop and again it burns off Tuesday with sunshine. There a minimal chance for a scattered thunderstorm Tuesday. Humidity levels will be very high through midweek. Tuesday's highs will average in the lower 90s.
Wednesday we have a weather front that will begin its approach putting more clouds into the mix but there will still be enough sunshine to take highs to the upper 80s to around or just over 90 degrees. The initial arrival of the front won't come with much but the front does stall out along the coast and it will be a forecast headache for the end of the week and possibly into the weekend.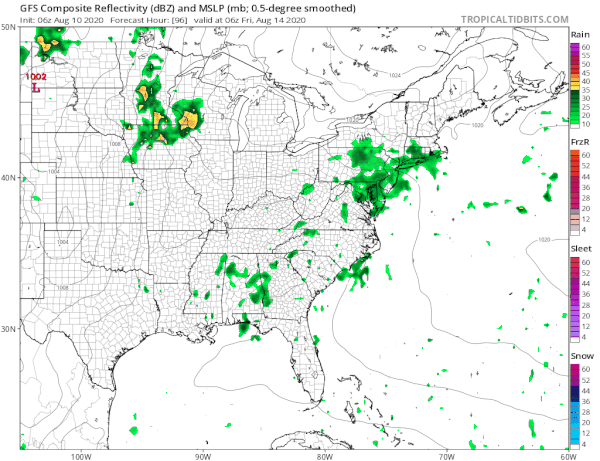 This would be a situation where high pressure builds to our north, an onshore flow develops, and we get a couple of waves to move along the boundary. This opens up the increasing chance for rain and thunderstorms at the end of the week and into the weekend. At least this will bring a break in the temperatures as clouds and an onshore flow will hold temperatures down. We will break this down a bit more later today as well as tonight on the Joe & Joe Weather Show.
MANY THANKS TO TROPICAL TIDBITS FOR THE USE OF MAPS
Please note that with regards to any severe weather,  tropical storms, or hurricanes, should a storm be threatening, please consult your local National Weather Service office or your local government officials about what action you should be taking to protect life and property.