Harvey Texas Gulf Coast Threat Increasing
Harvey Texas Gulf Coast Threat Increasing
Latest satellite loops continue to show disturbed weather which are the remnants of Tropical Storm Harvey crossing the Yucatan peninsula this morning and moving northwestward. There is a weak circulation of some sort with this system but we will have to wait for that to emerge over the open waters of the Gulf of Mexico before any strengthening to begin. Conditions certainly look quite favorable for strengthening once that center moves over the open waters early Wednesday morning.
Afterwards it looks like a slow track to the northwest looms which will take this system over open waters over a long track. This should give this system ample time to feed off the 86-88 degree water. Notice on the loop there is an upper air storm in the Northwest Gulf moving westward. This is going to set up an ideal outflow pattern over the Western Gulf of Mexico with a low wind shear environment aloft. I think there is a fair chance this system at the very least could reach minimal hurricane strength and possibly higher.
All the track model guidance continues to shift further north. There are some bizarre track scenarios being shown by some models including the European which stalls it near the Upper Texas coast for 3 days and creates a catastrophic flooding event for the Coastal Bend from Corpus Christi to Houston. Of course this is one of the more extreme scenarios being indicated.
One of the things that is catching a bit of my attention is the timing of these two systems. The European takes an extra 48-72 hours to move Harvey inland and up the west side of the Appalachians while the GFS being faster takes a major hurricane inland along the Texas coast and then northeast up the west side of the Appalachians while it hooks the coastal low along the southeast coast and then kicks it northeast. There is a lot going on in the upper atmosphere here that bears some watching going forward.
Meanwhile the tropical wave that moved across the Atlantic is sitting in the Northwest Bahamas and will be there for the next several days. There isn't much there this morning in terms of cloud cover but upper air conditions are going to become more favorable for development over the next 3 or 4 days along and off the Florida East Coast so we will watch to see what happens there.
The tropical Atlantic remains quiet again thanks to that monstrous upper low in the middle of the Atlantic Ocean and the return once again of dry air. It seems that development over the next week or so will be confined to areas west of 60 degrees west.
MANY THANKS TO TROPICAL TIDBITS FOR THE WONDERFUL USE OF THE MAPS
Weather App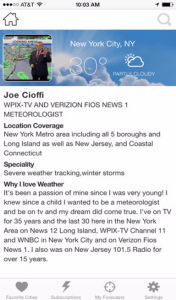 Don't be without Meteorologist Joe Cioffi's weather app. It is really a meteorologist app because you get my forecasts and my analysis and not some automated computer generated forecast based on the GFS model. This is why your app forecast changes every 6 hours. It is model driven with no human input at all. It gives you an icon, a temperature and no insight whatsoever.
It is a complete weather app to suit your forecast needs. All the weather information you need is right on your phone. Android or I-phone, use it to keep track of all the latest weather information and forecasts. This weather app is also free of advertising so you don't have to worry about security issues with your device. An accurate forecast and no worries that your device is being compromised.
Use it in conjunction with my website and my facebook and twitter and you have complete weather coverage of all the latest weather and the long range outlook. The website has been redone and upgraded. Its easy to use and everything is archived so you can see how well Joe does or doesn't do when it comes to forecasts and outlooks.
Just click on the google play button or the apple store button on the sidebar for my app which is on My Weather Concierge. Download the app for free. Subscribe to my forecasts on an ad free environment for just 99 cents a month.
Get my forecasts in the palm of your hand for less than the cost of a cup of Joe!