Harvey Remnants Saturday Warm Labor Day
Harvey Remnants Saturday Warm Labor Day
The 3rd summer holiday and the last weekend of the summer vacation season is here. It appears some rain is in the forecast for the first part. In fact the first half of the weekend will start out very cool thanks to a cool shot of air arriving Friday. Friday will be w breezy and very cool day with an autumn feel to the air. It will be sunny but highs will only be in the upper 60s to lower 70s.
SATURDAY MORNING FORECAST LOWS
Saturday morning lows will make you think of early October with temperatures along the coast and in the warmer urban areas down in the low 50s and widespread 40s inland and even a few 30s showing up in the coldest spots.
It is a very active satellite loop late this afternoon with 3 storms visible including the noreaster that is offshore and currently roughing up the ocean beaches and Harvey which is now inland in Southwest Louisiana
SATELLITE LOOP

REGIONAL RADAR

Saturday will be a chilly day with cloudy skies, an onshore wind, and the arrival of some rain from the remnants of Harvey. Usually tropical systems coming up west of the Appalachians aren't too problematic for us as most of the rain gets left back west of the mountains.
GFS FORECAST RAINFALL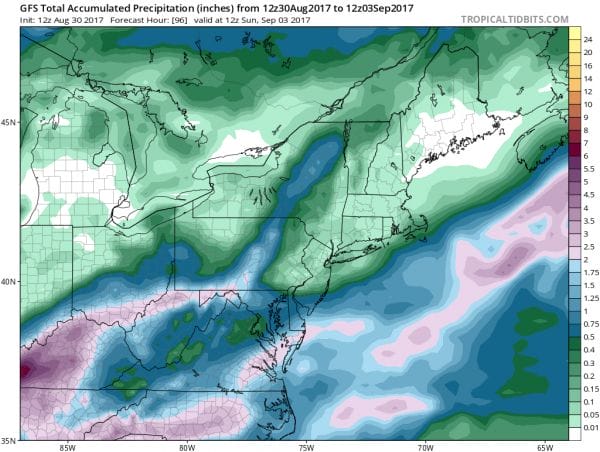 Weather models have cut back on rainfall and you can see that the GFS shows very light rainfall amounts for most of the area. I'm not especially worried about this since the remnants of Harvey are not getting energized but upper air energy. Once this plays through we should see improving weather conditions Sunday with sunshine and highs back to the upper 70s and lower 80s. Labor Day looks warm and sunny with highs into the 80s.
We have a new tropical storm in the Atlantic. Irma is way out in the tropical Atlantic near the Cabo Verde Islands and it may at least 5 days before it gets close enough to any land areas. There is also the possibility of another tropical depression or tropical storm forming over the weekend or early next week in the Southwest Gulf of Mexico which of course will put the Texas Gulf Coast on high alert. We will monitor both possibilities carefully in the coming days.

GET JOE A CIGAR IF YOU LIKE 
FiOS1 News Weather Forecast For Long Island
FiOS1 News Weather Forecast For New Jersey
FiOS1 News Weather Forecast For Hudson Valley
LATEST JOESTRADAMUS ON THE LONG RANGE