Harvey East Coast Noreaster New Tropical Storm Possible East Atlantic
Harvey East Coast Noreaster
New Tropical Storm Possible East Atlantic
We will start this morning with low pressure off the North Carolina coast that continues to move northeast. A defined center has developed but it remains elongated and we still do not have much weather going on near the center as most of the rains and wind are to the northeast in typical noreaster fashion. This is running out of time to become a tropical cyclone but it wlll become a non tropical strong gale center as it goes out to the east northeast. Weather models were a tad further north overnight so the idea of being brushed by some rain with breezy conditions along the coast continues. Gales will be blowing mostly offshore. For our area it is a gloom day of lots of clouds, an ocean wind, some rain mainly from Rt 78 to NYC to Long Island southward and temperatures not out of the 60s.
Harvey continues to hammer Southeast Texas & Southwest Louisiana with torrential rain. On the latest loop convection developed closer to the center in the northern semicircle. There could be some strengthening going on but regardless it will be another day of mind blowing rain as the water just continues to pile on. Harvey is moving to the east this morning and is now centered about 100 miles south of Port Arthur Texas. It may sit out there for another day or so before moving inland later Wednesday. We could see some of the remnant rains here Saturday night into part of Sunday. We will have more on this later today.
Latest radar shows heavy rains rotating back westward with more torrential downpours in and around Galveston. Heavy rain is arcing back westward toward Houston again. Southwest Louisiana is getting hammered as well.
Finally we have a new tropical wave south of the Cabo Verde Island which has become better organized overnight and all the global models develop this into a tropical depression or tropical storm in the next 3 to 5 days as it tracks toward the west. Longer range models all have this as a hurricane in the Atlantic so I imagine it will get some attention going forward but lets see if it develops first.
MANY THANKS TO TROPICAL TIDBITS FOR THE WONDERFUL USE OF THE MAPS
Weather App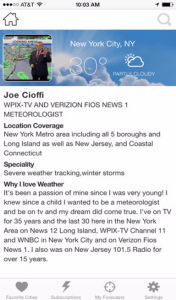 Don't be without Meteorologist Joe Cioffi's weather app. It is really a meteorologist app because you get my forecasts and my analysis and not some automated computer generated forecast based on the GFS model. This is why your app forecast changes every 6 hours. It is model driven with no human input at all. It gives you an icon, a temperature and no insight whatsoever.
It is a complete weather app to suit your forecast needs. All the weather information you need is right on your phone. Android or I-phone, use it to keep track of all the latest weather information and forecasts. This weather app is also free of advertising so you don't have to worry about security issues with your device. An accurate forecast and no worries that your device is being compromised.
Use it in conjunction with my website and my facebook and twitter and you have complete weather coverage of all the latest weather and the long range outlook. The website has been redone and upgraded. Its easy to use and everything is archived so you can see how well Joe does or doesn't do when it comes to forecasts and outlooks.
Just click on the google play button or the apple store button on the sidebar for my app which is on My Weather Concierge. Download the app for free. Subscribe to my forecasts on an ad free environment for just 99 cents a month.
Get my forecasts in the palm of your hand for less than the cost of a cup of Joe!