NICE WEATHER THIS EVENING ACROSS THE NORTHEAST
HALLOWEEN SUNSHINE TEMPERATURES IN THE 60S
SHOWERS RETURN THURSDAY NIGHT AND LAST INTO SATURDAY
MORE COLD FRONTS IN THE CARDS NEXT WEEK
It was a ncie day and the satellite loop tonight shows cloud cover in New England and some clouds on the western edge of the loop in Ohio & Western Pennsylvania. In between, skies are clear and we should be clear all night with most lows in the 40s to lower 50s. High pressure is moving off the coast of the Southeast US with a west southwest flow. Sunshine on Halloween will see temperatures reach up into the 60s.
EASTERN SATELLITE

REGIONAL RADAR

We don't see much chance in the weather outlook for the rest of the week and into the weekend. The pattern looks busy with cold fronts coming through every couple of days. Front number 1 approaches Thursday night into Friday with showers and downpours. That front stalls and another wave brings more showers and downpours Friday night into early Saturday. The dry air follows. Another front and low pressure moves into the Ohio Valley for next Tuesday Election Day. Dry weather Sunday and Monday will be followed by more showers and downpours next Tuesday. On and on it goes as the the upper air continues to move one trough after another moving through.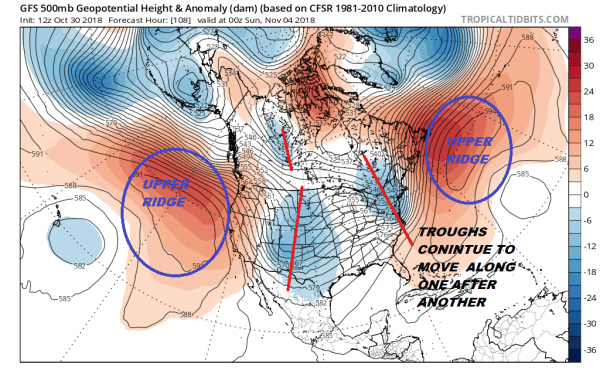 When we look at the long range indicators today there is no blocking to speak of in the North Atlantic and the pattern remains progressive with ups and downs until further notice. Shots of colder air come in for a day or two with a warm up in between. No noreasters are on the horizon at the moment as the upper air pattern is not favorable at the moment for storms to go to our south with big highs to the north and northeast. The weather looks typically very much early November-sih.
SUBSCRIBE TO PATREON FOR A WEATHER EXPERIENCE FREE OF ADS, EXCLUSIVE VIDEOS FOR MEMBERS ONLY AND MUCH MORE…STARTS AT $2 A MONTH..MESSAGE ME AT ANY TIME

MANY THANKS TO

TROPICAL TIDBITS

FOR THE USE OF MAPS
Please note that with regards to any tropical storms or hurricanes, should a storm be threatening, please consult your local National Weather Service office or your local government officials about what action you should be taking to protect life and property.
LATEST JOESTRADAMUS ON THE LONG RANGE