Gusty Winds Continue Today Into Thursday
Two Storm Systems Heading East Weekend Into Next Week

Yesterday we had wind issues all day long with gusts over 40 mph. We will continue to see gusty winds today but they should be somewhat lower than yesterday. A powerful storm lies to the east and you can see the rotation on the satellite loop. To the northwest we have a strong high pressure area. The pressure gradient remains rather tight so we will see gusts up to around 30 mph or so. Otherwise we will see sunshine today along with a few passing clouds. High temperatures will be in the low to middle 40s and the wind will make it feel at least 10 degrees colder.
SATELLITE

WEATHER RADAR

Toinght we should see partly to mostly clear skies with lows in the mid 20s to lower 30s. Thursday should be a nice day of sunshine and while it might be breezy early in the day, winds should finally ease in the afternoon. High temperatures will be in the low to middle 40s.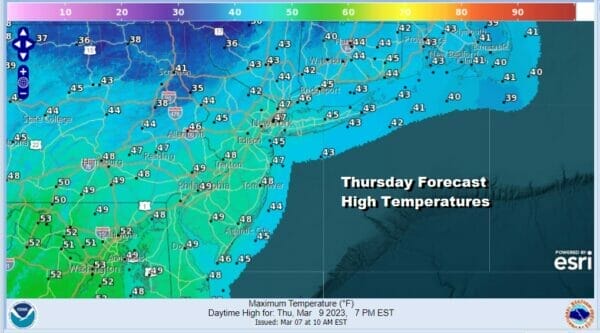 Two storm systems will be in play with the first one arriving Friday and a second one early next week. We have a blocking pattern that has strong high pressure across Southern Canada and storms that will track further south than what we have seen all winter long.
The track will be more favorable for snow but the issue will be that we are going to be on the edge of colder air so along the coast it will likely be a battle of rain verses snow. Inland areas will see a better chance for snow from these two storms. Snow will develop Friday evening with rain developing along the coast. We will see snow inland and a mix of snow/rain coast Friday night into early Saturday morning. The primary low tracks to Western Pennsylvania and then jumps to off the New Jersey coast Saturday morning. The low will drop southeastward and that will bring precipitation to an end by midday Saturday. Leftover clouds will follol. Most temperatures will be in the low to mid 30s through all of this. Sunday into early Monday will be dry before the next storm comes east across the Ohio Valley and does pretty much the same thing as the Friday night Saturday system. This one may have  a little more cold air to work with and that could mean more snow for all areas. The first system will impact the second so it is fruitless to speculate at this stage. We will be talking more about this this evening on the Joe & Joe Weather Show at 7:35pm
Please note that with regards to any severe weather,  tropical storms, or hurricanes, should a storm be threatening, please consult your local National Weather Service office or your local government officials about what action you should be taking to protect life and property.