Gusty WInds Colder Weather Today Friday Showers Saturday, Long Range Blocking Developing

Colder air has returned to the Northeast and Northern Mid Atlantic today. The satellite loop shows yesterday;s cold front well offshore and we will spend the day with some sunshine and clouds. The gradient is still on the tight side so we will see gusty northwest winds so highs in the low to mid 40s will feel at least 10 degrees colder. The radars are showing some lake effect snow going on in parts of Western and Northern NY and there are some stray snow showers on the radar moving east. Most should dry up but a snow shower or two inland can't be ruled out.
SATELLITE

WEATHER RADAR

Another cold night lies ahead with clear skies and lows in the 20s to around 30 degrees. Friday the core of the cold air will pass to the east and high pressure will be along the coast so the winds should drop off. Temperatures will nudge up a little higher Friday with sunshine and highs reaching the mid to upper 40s.
The pattern continues to be fast moving and the next cold front (third one in a week) will be approaching so clouds will increase Friday night and we will see showers Saturday during the morning into early afternoon. Then weather conditions will improve afterwards. Temperatures will warm with a gusty southwest wind and highs will reach the 50s to near 60 degrees.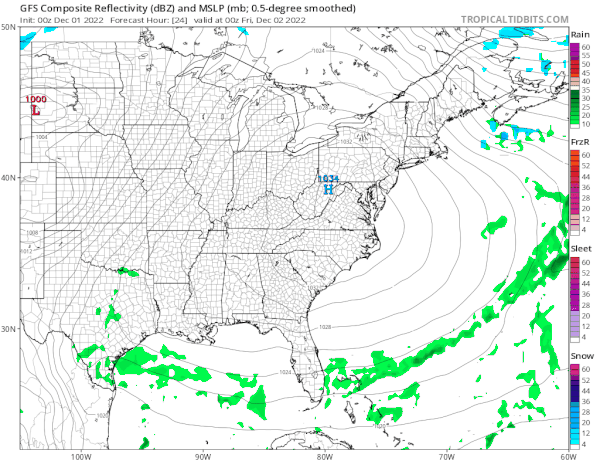 As with the cold fronts before it, this one is no different with the front passing to the east and weather conditions turning colder for Sunday. Look for some sunshine and a gusty breeze with Sunday highs just in the low to middle 40s. Next week we will see the evolution of a new weather pattern that I believe will implications for the month of December.
Over the next week a developing blocking high over the North Atlantic and Greenland along with another strong high in the Northeast Pacific will alter the pattern radically. This will favor a more peristent colder than average temperature pattern in much of the Eastern US. It will also alter the pattern of cold fronts coming through every two or or three days with cold shots behind the fronts and warm ups ahead of it. This could potentially be a a rather wintry pattern and it could mean the chance we could see some early snow should a favorable set up result. This pattern looks to hang around for awhile, at least into mid month. It appears that we will have one more cold front next Wednesday and that should be the last one before the blocking pattern takes hold. We will have interesting weather times ahead.
Please note that with regards to any severe weather,  tropical storms, or hurricanes, should a storm be threatening, please consult your local National Weather Service office or your local government officials about what action you should be taking to protect life and property.