Good Start to the Week 70s Tuesday Before Next Cold Front Arrives Midweek

We have a good looking start to the week as skies are mainly sunny. The cold air mass over us yesterday is moving offshore and that should start a warm up today. Also winds are down which is a good thing too and the radars are nice and quiet. Afternoon highs today will be in the low to mid 60s in most places but there may be some local sea breezes along the coast and south facing shorelines later today. Those areas will see their highs in the 50s.
SATELLITE

WEATHER RADAR

Tonight won't be as cold as past nights with most lows in the 40s to around 50 or so. There is a back door cold front that will be dropping southward in Upstate NY and New England but this front should set up well north of Route 84 Tuesday so this will keep the areas south of the front on the warm side. It also should be a partly to mostly sunny day so temperatures will be able to move up nicely reaching the 70s in many areas except again for south and east facing shorelines where sea breezes will take hold and keep temperatures lower in those areas.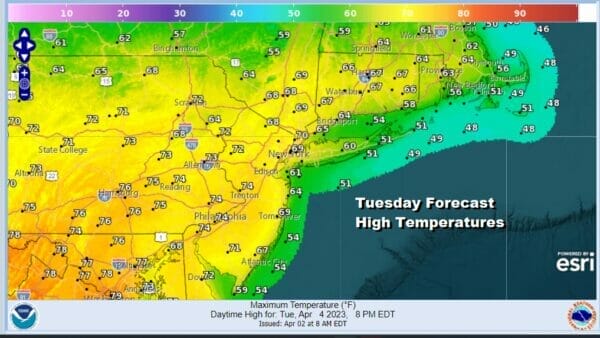 That back door cold front will settle further south Tuesday night and Wednesday and it will wind up somewhere across Central New Jersey Wedesday. North of the frontal line we will likely see lots of clouds and perhaps a few passing showers or some light rain or drizzle with highs in the upper 40s to mid 50s.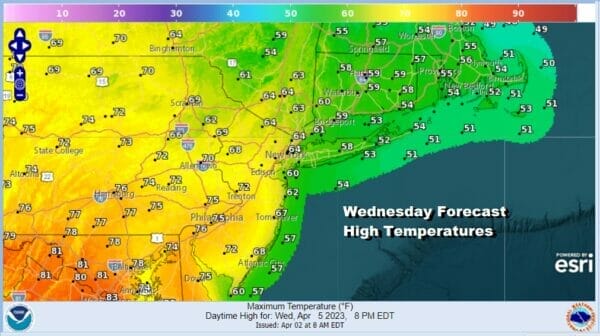 South of that boundary though, there will be more in the way of sunshine and temperatures should reach into the 70s again in Southern New Jersey, Southern Pennsylvania and points southward. Another powerful storm will be the driver of the next round of showers here as a cold front approaches Wednesday night and Thursday.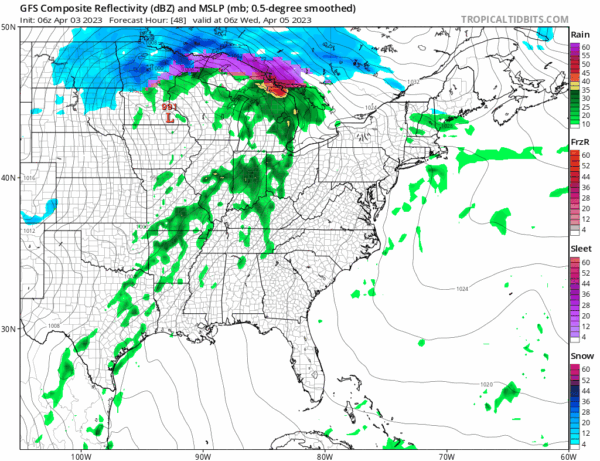 This front will likely produce off and on showers Wednesday night and again later Thursday into Thursday night. I don't expect the rain to be continuous. In between there might be some sunshine that will break out Thursday as the warm front goes to our north and we get into a southwest wind. Some highs will be reaching into the 70s.
The front will move through Thursday night and most if not all of the showers should be done by Friday morning. Right now we are optimistic that Friday and the Easter weekend will be a dry three day stretch with at least some sunshine each day. Friday and Saturday highs look to be in the 50s. Easter Sunday highs could reach back into the low and middle 60s.
Please note that with regards to any severe weather,  tropical storms, or hurricanes, should a storm be threatening, please consult your local National Weather Service office or your local government officials about what action you should be taking to protect life and property.