Gloomy Weather To Finish 2021 Rain Starts 2022
Colder Air Follows Early Next Week

Weather in 5/Joe & Joe Weather Show Latest Podcast
Gloomy Weather To Finish 2021 Rain Starts 2022
Colder Air Follows Early Next Week
Clouds continue to dominate the weather scene today as we are in a bit of a doom and gloom pattern. There is no real push of dry air behind these weak weather systems that continue to move through the Northeast and Mid Atlantic states. We did happen to notice a few holes in the overcast this afternoon but for most of the area it was cloudy. Now we head into tonight with cloudy skies and the likelihood of patchy fog around. Of course temperatures won't be going anywhere in this warm pattern. Most lows tonight will be be in the raw upper 30s and lower 40s. Radars are picking up on just a few scattered showers and for most tonight other than some mist or drizzle there should not be much in the way or rain.
SATELLITE

WEATHER RADAR

I really don't see much difference in the weather Thursday from today. If you happen to find yourself in one of those gaping holes on the satellite where you get some breaks of sun, lucky you and treasure it. Otherwise it will be a lot of cloud with patchy fog and drizzle. Temperatures will generally be topping in the upper 40s to some lower 50s.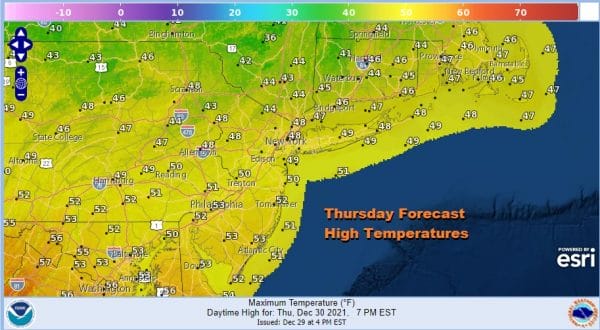 Friday is New Years Eve and we may catch a break before Saturday's stronger storm system heads our way to kick off New Years Day. While there will be clouds around early, along with patchy fog and drizzle, I do think there will be enough drying to allow for some breaks of sunshine to develop especially in the afternoon. High temperatures will reach the low and middle 50s. The new year arrives with clouds and probably some patchy fog, mist and drizzle and temperatures in the 40s.
Now we are on to the weekend. The atmosphere is already prepping for a strong storm system. We have severe weather across the deep south tonight with a rather high tornado risk and severe weather risks will continue across the south through Saturday. Meanwhile low pressure develops in the Southern Plains Friday night bringing colder air down into the Northern and Central Plains and Midwest. That is pretty much where the position of the upper trough is.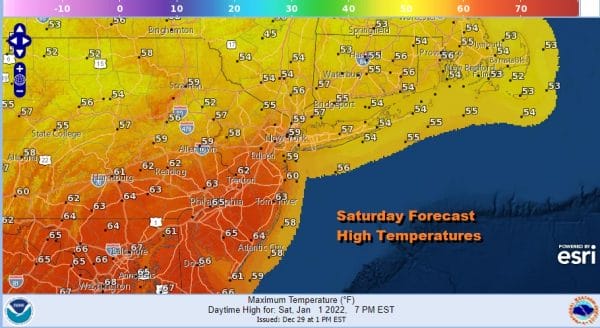 This Southern Plains low moves northeast and heads into Upstate NY and New England by Sunday afternoon and ahead of it we will see a soaking rain develop Saturday from south to north from Virginia to Southern New England. Take a look at the warm temperatures that come with the rain as highs reach the upper 50s to some low and middle 60s!
We continue to see alternate runs of the GFS go back and forth on how it handles the second low that develops The alternate runs show a stronger southern upper trough which pulls in colder air and develops a stronger low as it moves east. It would argue for a change over to snow and maybe even a few inches of wet snow accumulating on the backside. However the main runs of 12z and 0z show a weaker low to the south and those line up well with the European and other global models so we are discounting this notion and going for perhaps a second round of rain into Sunday night before the rain shuts off and then it turns windy and colder for Monday with highs just into the low and mid 30s with some sunshine returning. If we see indications of the southern part of the trough being stronger than the context of this conversation will change somewhat as we get closer to the weekend.

Please note that with regards to any severe weather,  tropical storms, or hurricanes, should a storm be threatening, please consult your local National Weather Service office or your local government officials about what action you should be taking to protect life and property.