Gloomy Saturday Ocean Wind Severe Weather South
Gloomy Saturday Ocean Wind Severe Weather South
Today is going to be one of those days where location means everything. We are looking at the surface map this morning and we are stilling fighting the progress of a warm front to the south. The northeast wind has taken the 60s south into Delaware and Maryland but we will see that warm front push northward today. It should reach up into Central New Jersey near Route 195 which means along and just south of there late this afternoon and evening there is the threat for severe weather. The Storm Prediction Center has raised the severe weather risk for that area today and extends westward into most of the Southern half of Pennsylvania..
In the meantime there are clouds everywhere this morning with some showers on the radar that developed overnight and are now moving to the north into New York State and parts of Southern New England. We should catch a bit of a break in the showers for awhile today before they fire up again late this afternoon and into the first part of tonight.
EASTERN SATELLITE

REGIONAL RADAR

This is going to be the big issue today in that there are going to be showers dotting the radar throughout the day and some areas might seem them and some might not. The risk will be there but for most of the time for most of the area it won't be raining. Also temperatures will be an issue today and from 195 in New Jersey north and east to NYC, the Hudson Valley Southern New England and Long Island it will be upper 60s to lower 70s all day with an east wind. South of Route 195 across Southern New Jersey and Southeastern Pennsylvania it should reach into the 80s. This is where the severe weather threat exists for late today.
LOCAL RADAR NEW YORK CITY
LOCAL RADAR PHILADELPHIA

Tonight the warm front pushes northeastward and this sets us up for a warm humid Sunday with clouds and some sun and highs in the 80s. Late Sunday into Sunday night a cold front could trigger off some thunderstorms. Then it is on the a shot of cool dry air for the first part of next week. Sunshine should return on Monday with lower humidity and that will the story into Wednesday. Monday's highs will be in the 80s. Tuesday and Wednesday highs will be in the upper 70s and lower 80s.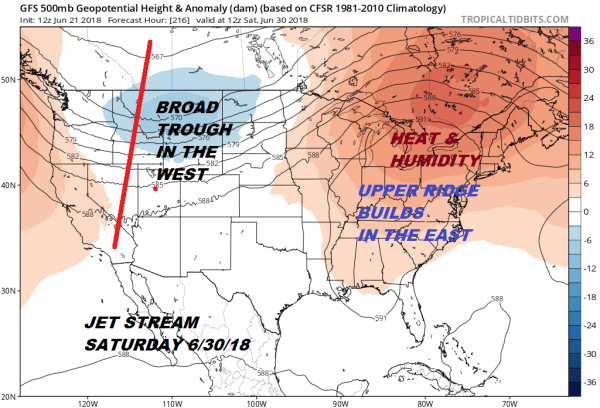 The change to a summery weather pattern remains on course with a warm front moving through Wednesday night with some showers and thunderstorms. Then comes the humidity and the heat beginning on Thursday with highs in the 80s to near 90 and then we will be into the 90s Friday and through next weekend as a big upper high builds in the Eastern US and the jet stream retreats back north into Canada.
My colleague Meteorologist Andrew Piniero lost his voice but that didn't stop him from doing a weather video silent film style.

GET JOE A CIGAR IF YOU LIKE 
LATEST JOESTRADAMUS ON THE LONG RANGE