Gloom & Doom Showery Rains Continue Today Week Ahead Outlook
The satellite loops and radar loops all show clouds and areas of showers moving from south to north with hardly any west to east movement. This is going to be the issue today and into Tuesday with a flow off the ocean at the surface and the moisture moving south to north aloft.  The radars are showing patchy areas of rain both on land and in the ocean and this will be the story for today. It doesn't rain non stop and there will be dry periods in between. It is humid and it is on the warmish side as highs today will be mostly in the 60s.
SATELLITE

WEATHER RADAR

There is no real push of dry air coming in from the west so it will be a matter of waiting for the onshore flow to relax some. Showery rains will diminish tonight and Tuesday but that will leave us with lots of clouds around especially from NYC and Southern New England east. There is a chance that to the west on Tuesday in Western NJ and into Pennyslvania that sky condiitions could possibly improve. Highs again will be in the 60s.
Wednesday brings a cold front through so with the onshore flow dying off, we could see clouds and some sunshine with highs in the 60s but there is the chance there could be some showers late in the day as the front passes. Models aren't overly bullish on showers and the front looks to come through with not much in the way of weather. I just threw in the chance just in case. Highs will be in the upper 60s and lower 70s.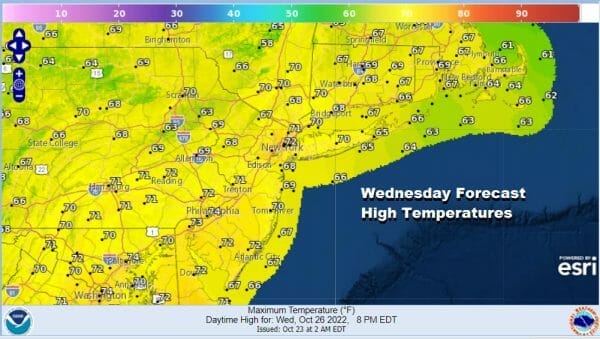 Thursday and Friday sees high pressure building across the Great Lakes and Northeast and it looks as if we will have dry weather for the late week and weekend timeframe. The gfs map loop below shows low pressure east of the Bahamas possibly developing into a tropical depression or tropical storm but for now it seems if it happens it will be an offshore issue. We should finish the week with some sunshine and highs in the 60s Thursday and just the lower 60s Friday.
Please note that with regards to any severe weather,  tropical storms, or hurricanes, should a storm be threatening, please consult your local National Weather Service office or your local government officials about what action you should be taking to protect life and property.