Gloom & Doom Clouds Drizzle Fog And Some Showers Late Week Sunshine

It is another day of gloom & doom today from Eastern Pennsylvania to Southern New England. Every once in a while today you could see skies brighten up in spots but all that does it create more low clouds. We also still have the onshore flow issue and that means we will have drizzle and some fog, and there will be some passing showers this afternoon. Otherwise it is just a ho-hum gray day. It is also on the warm and muggy side so at least we don't have a raw chilly northeast wind. Highs this afternoon will be in the upper 60s to around or just over 70 degrees.
SATELLITE

WEATHER RADAR

Tonight is going to be a foggy drizzly night with low clouds and temperatures in the 50s to lower 60s. Fog may be locally dense in areas so travel with care. Wednesday the fog and low clouds will be stubborn and we may have to wait until a cold front passes Wednesday evening to get the clouds out of the way complelely. Highs Wednesday will be in the 60s to around 70. There might be a few passing showers as the front goes by.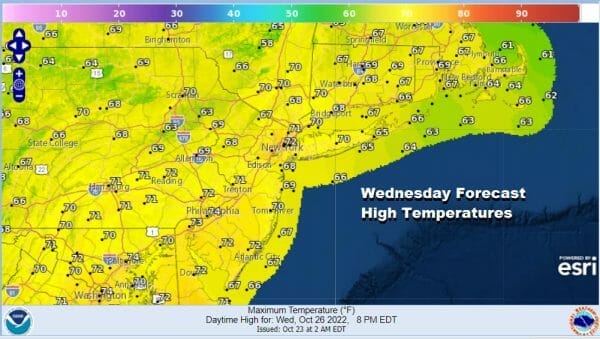 This cold front will get the low clouds out of the way and put an end to the onshore flow. We will see skies clear out Wednesday night and Thursday should begin a stretch of sunny days. We will be cooling down some but it will be in stair step fashion. Thursday highs will be in the mid to upper 60s.
Friday we will see sunshine and a northeast wind as high pressure builds across Upstate NY and New England. Friday highs will be mostly in the 50s. It looks like we will have a nice weekend with a high to the north and a dry flow from the northeast. The moist onshore flow sets up further south this time. Temperatures will be on the cool side this weekend. Highs will be in the 50s Saturday and upper 50s and lower 60s Sunday.
Please note that with regards to any severe weather,  tropical storms, or hurricanes, should a storm be threatening, please consult your local National Weather Service office or your local government officials about what action you should be taking to protect life and property.