Gloom And Doom Weather Into Mid Week With Rain Wind From Time to Time

We are solidly in a doom and gloom pattern here in the Coastal Northeast and Middle Atlantic states and it looks to be with us through Wednesday. Clouds cover much of the Mid Atlantic and Northeast today and we have an upper air storm system in Western Pennsylvania and West Virginia. That upper low will swing east and soon it will allow a coastal low to form offshore. High pressure to the north is going to combine with that low to the south to produce a tight pressure gradient from Long Island southward to Virginia.
SATELLITE

WEATHER RADAR

We will likely see rain from time to time today with temperatures holding in the 50s all day. The tight gradient will produce winds of 20 to 30 mph with higher gusts to gale force from Coastal Long Island and New Jersey southward. A break in the rain will probably come tonight and last into Monday morning before we start to see the next low develop off the Mid Atlantic coast.
This new storm system will be a little further south but we will still be in lots of clouds and we will likely see another round of rain develop late Monday and last into part of Tuesday though this area of rain will not get as far north as what we saw yesterday. It probably cuts off just north of NYC and southernmost New England. Monday highs again will not get out of the 50s.
The gale center will continue to spin around off the coast of the Delmarva Peninsula Monday night and Tuesday. Bands of raIn will continue to come in from the south and east and spin back northwest. The heaviest will be south of NYC. Temperatures again mostly in the 50s to around 60 or so.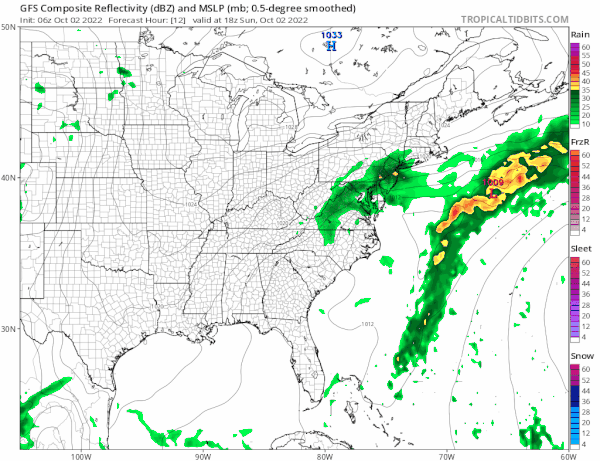 By Wednesday as the low starts to spin down, the rain bands thin out and we will just be in mostly cloudy skies. The raw northeast flow will start to diminish some and temeratures will be allowed to rise back into and through the 60s. Rainfall amounts will be significant as you go south from Southern New Jersey into Delaware and Eastern Maryland with 2 to 3 inches likely there but notice how amounts rapidly decrease once you get north of the I-95 Corridor and they really shut down along and north of Route 84.
We will see genuine improvement Thursday and Friday but another cold front will be moving through late Friday. There probably won't be much with it but behind it will the first of 2 shots of air from Canada. The first one will be cool. A second front next Sunday will bring in what I would describe as cold air and that will likely produce the first frosts and freezes in areas north and west of the coast. More on this as we move through the week.
Please note that with regards to any severe weather,  tropical storms, or hurricanes, should a storm be threatening, please consult your local National Weather Service office or your local government officials about what action you should be taking to protect life and property.