GFS Weather Model Goes Wintry
GFS Weather Model Goes Wintry
Before everyone jumps on the winter is coming soon train, let us right off the bat caution that this is one run of the GFS that shows a cold bullish winter pattern developing over the next 2 weeks once the rain systems of this week are done. WE NEED TO SEE A BUNCH MORE OF THESE GOING FORWARD. We also need to see some sort of CONFIRMATION FROM THE EUROPEAN MODEL AMONG OTHERS.
First off is the rain for Tuesday-Thursday of this coming week. Everything seems on board for a 2 to 3 inch rainfall over a widespread area. Looking at the models today there seems to be no changes in that regard. Once the two weather systems are done we watch and see what happens going forward.
First off there are major differences in the GFS weather model and Canadian weather model at day 10. Given that the Canadian weather tends to be a bit squirrelly most of the time we will put some weight in the differences but not much. The Canadian model and the GFS model agree (somewhat) on troughing in the west. They also agree (somewhat) on the ridge building over Alaska. However they disagree on everything else especially in the east.
The biggest difference is in the east where the GFS weather model has more energy in Southeastern Canada which keeps it colder in the Eastern US than the Canadian which builds a strong ridge aloft in the east thanks to a deep trough offshore. If we want to use last night's European model as the tie breaker it leans much more to the GFS weather model than the Canadian. However the European last night had a system in the Ohio Valley at this point and a different ridge structure over Alaska. If it is wrong on the Ohio Valley system then it is likely to look more like the Canadian.
From day 10 on the GFS goes full force winter as a strong polar vortex forms in Canada and drives cold air everywhere. You can see it on the Temperature Anomaly Map below. Just click to animate.
GFS WEATHER MODEL UPPER AIR DAYS 11-14 CLICK TO ANIMATE
Where do we go from here. Well obviously we watch and wait. Ensemble members of the GFS suggest the ridge idea in the east is more correct though much flatter than the Canadian model. Since the Canadian and European models only go out 10 days verses 16 for the GFS, it is possible that they could get to a similar place down the road but take a little longer to get there. The new European model run from this afternoon is running right now and we will see where it takes us. Prior runs seem to have been in agreement somewhat with what it looks like days 7-10.  Let us see where today's run takes us.
MANY THANKS TO TROPICAL TIDBITS FOR THE WONDERFUL USE OF THE MAPS
           SNOW REMOVAL COMPANIES FOR YOUR WINTER NEEDS
             LONG ISLAND                                ROCKLAND COUNTY                   Connecticut

WINTER 2016-2017 PART 1 OCEAN WATER TEMPERATURES
WINTER 2016-2017 PART 2 ARCTIC SEA ICE AND SIBERIAN SNOW COVER
FiOS1 News Weather Forecast For Long Island
FiOS1 News Weather Forecast For New Jersey
FiOS1 News Weather Forecast For Hudson Valley
NATIONAL WEATHER SERVICE SNOW FORECASTS
LATEST JOESTRADAMUS ON THE LONG RANGE
Weather App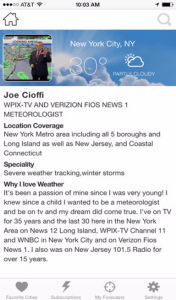 Don't be without Meteorologist Joe Cioffi's weather app. It is really a meteorologist app because you get my forecasts and my analysis and not some automated computer generated forecast based on the GFS model. This is why your app forecast changes every 6 hours. It is model driven with no human input at all. It gives you an icon, a temperature and no insight whatsoever.
It is a complete weather app to suit your forecast needs. All the weather information you need is right on your phone. Android or I-phone, use it to keep track of all the latest weather information and forecasts. This weather app is also free of advertising so you don't have to worry about security issues with your device. An accurate forecast and no worries that your device is being compromised.
Use it in conjunction with my website and my facebook and twitter and you have complete weather coverage of all the latest weather and the long range outlook. The website has been redone and upgraded. Its easy to use and everything is archived so you can see how well Joe does or doesn't do when it comes to forecasts and outlooks.
Just click on the google play button or the apple store button on the sidebar for my app which is on My Weather Concierge. Download the app for free. Subscribe to my forecasts on an ad free environment for just 99 cents a month.
Get my forecasts in the palm of your hand for less than the cost of a cup of Joe!