GFS Model Winter Fantasy Land
For the first time since I can remember we have the long range indices that measure blocking and the weather patterns across the northern hemisphere lining up for an ideal winter time look. Too bad for snow lovers it is the middle of March and not the middle of any other winter month.
GFS Model Winter Fantasy Land Long Range Indices
In fact the North Atlantic Oscillation and the East Pacific Oscillation will have its strongest negative reading in a long long time toward the end of next week. The Pacific North America Pattern index is positive but not overly so. If all these indices are lined up for a last gasp of winter weather then what is the problem?
The problem is two fold. There is, among things, one important index that is not exactly following along. The Arctic Oscillation or AO is at best neutral all next week. If that index were negative, there would be much colder air all over the place. Instead we have at best marginally cold air. Given the time of year that is simply not enough.
The second issue is the position of the trough which I believe is a little too far west at the point it goes neutral. The GFS model today seems to be in fantasy land going for coastal development of of what would be a major storm for the northeast especially the interior.
GFS Model Winter Fantasy Land UPPER AIR NEXT SUNDAY MARCH 20TH
GFS MODEL SURFACE MONDAY MARCH 21, 2016
My own view on this is that the European shows nothing like this. It has the deep trough but it is much broader and much less developed. It also has been very consistent for the last 7 or 8 runs about this idea of low pressure being less developed and going well west and north. I can't see how the GFS could be close to being right since we have seen over and over again how some models show intensity and phasing early in the game only to grasp reality that the phasing and timing is just not there. Now is it possible that the GFS might have the better idea? Sure..broken clocks are right twice a day. However it is hard to go against the European model which has been far superior. It is hard for me to get worked up over the GFS since even in the short range it has come around to the European idea (finally). This is a huge bet against in my view. But we will keep an open mind and see if the European changes its view of the longer term. Speaking of fantasy here is the GFS snowfall forecast map. I will post about the Euro model later this afternoon. Now with the time change, models come out an hour later so the Euro model won't be done until 3pm.
GFS Model Winter Fantasy Land SNOWFALL FORECAST MAP
LATEST EURO MODEL ANALYSIS ISSUED AT 5PM EDT SUNDAY 3/13/2016
FiOS1 News Weather Forecast For Long Island
FiOS1 News Weather Forecast For New Jersey
FiOS1 News Weather Forecast For Hudson Valley
NATIONAL WEATHER SERVICE SNOW FORECASTS
LATEST JOESTRADAMUS ON THE LONG RANGE

NOMINATED FOR AN APPY AWARD FOR BEST WEATHER APP!!
Weather App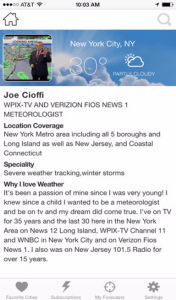 Don't be without Meteorologist Joe Cioffi's weather app. It is really a meteorologist app because you get my forecasts and my analysis and not some automated computer generated forecast based on the GFS model. This is why your app forecast changes every 6 hours. It is model driven with no human input at all. It gives you an icon, a temperature and no insight whatsoever.
It is a complete weather app to suit your forecast needs. All the weather information you need is right on your phone. Android or I-phone, use it to keep track of all the latest weather information and forecasts. This weather app is also free of advertising so you don't have to worry about security issues with your device. An accurate forecast and no worries that your device is being compromised.
Use it in conjunction with my website and my facebook and twitter and you have complete weather coverage of all the latest weather and the long range outlook. The website has been redone and upgraded. Its easy to use and everything is archived so you can see how well Joe does or doesn't do when it comes to forecasts and outlooks.
Just click on the google play button or the apple store button on the sidebar for my app which is on My Weather Concierge. Download the app for free. Subscribe to my forecasts on an ad free environment for just 99 cents a month.
Get my forecasts in the palm of your hand for less than the cost of a cup of Joe!