GFS MODEL TROPICAL STORM
GFS MODEL TROPICAL STORM EASTERN CARIBBEAN
When we look at the satellite loop overnight we see that the strong tropical wave continues to look very well defined and the slow organization process continues. No doubt we see a rather well developed mid level circulation and it is likely that a low level center will soon close off. An Air Force plane will investigate the area Wednesday morning to see if a tropical depression or a tropical storm has formed.
Movement continues to be to the west or slightly north of due west at 20 mph or so and tropical storm force winds will spread over the Northern Windward & Southern Leeward Islands on Wednesday. The GFS model tonight remains pretty consistent with slowly developing the system as it begins its move across the Eastern Caribbean taking it north of Aruba & Curacao on Thursday & Friday.
GFS MODEL TROPICAL STORM FRIDAY MORNING
GFS MODEL TROPICAL STORM SATURDAY EVENING 8PM
The overnight run is extremely consistent with prior runs. It is at the point you see above at 8pm that the GFS like the European and other models did during the day Tuesday turn the storm to the north. The influence of the deep upper air low along the east coast is creating a weakness for this storm to turn northward. Almost all the hurricane models on the spaghetti plots are remarkably about the same
GFS MODEL TROPICAL STORM SPAGHETTI PLOTS
It is beyond this timeframe that models begin to diverge in both west and east directions and this will be dependent on just how strong this system gets while it is in the Central Caribbean. The stronger it is, the earlier the turn to the north will occur. Most cluster the storm in the Bahamas from west to east early next week.
GFS MODEL TROPICAL STORM UPPER AIR WEDNESDAY 1PM 10/05/2016
The model continues to shift to the left with the last 4 runs. It is also very consistent with the overall picture that it paints along the east coast. The big question going forward from here will be how does the trough in the plains impact this tropical system as it continues to move northward. We will wait to see what the European model has to say later this morning.
WINTER 2016-2017 PART 1 OCEAN WATER TEMPERATURES
WINTER 2016-2017 PART 2 ARCTIC SEA ICE AND SIBERIAN SNOW COVER
WINTER 2016-2017 PART 3 NEW JERSEY PREVIEW
WINTER 2016-2017 PART 4 EASTERN PENNSYLVANIA PREVIEW
FiOS1 News Weather Forecast For Long Island
FiOS1 News Weather Forecast For New Jersey
FiOS1 News Weather Forecast For Hudson Valley
LATEST JOESTRADAMUS ON THE LONG RANGE
Weather App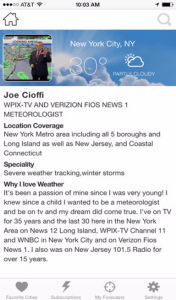 Don't be without Meteorologist Joe Cioffi's weather app. It is really a meteorologist app because you get my forecasts and my analysis and not some automated computer generated forecast based on the GFS model. This is why your app forecast changes every 6 hours. It is model driven with no human input at all. It gives you an icon, a temperature and no insight whatsoever.
It is a complete weather app to suit your forecast needs. All the weather information you need is right on your phone. Android or I-phone, use it to keep track of all the latest weather information and forecasts. This weather app is also free of advertising so you don't have to worry about security issues with your device. An accurate forecast and no worries that your device is being compromised.
Use it in conjunction with my website and my facebook and twitter and you have complete weather coverage of all the latest weather and the long range outlook. The website has been redone and upgraded. Its easy to use and everything is archived so you can see how well Joe does or doesn't do when it comes to forecasts and outlooks.
Just click on the google play button or the apple store button on the sidebar for my app which is on My Weather Concierge. Download the app for free. Subscribe to my forecasts on an ad free environment for just 99 cents a month.
Get my forecasts in the palm of your hand for less than the cost of a cup of Joe!