Gfs Model Builds Scandinavian Block As Canada Changes
One of the huge disadvantages of having so many models is that if you shop around long enough you can either find what you want to happen or you will find what you don't want to happen. The result of this is watching people go from run to run with great euphoria one minute and total despair the next. This is not forecasting. I for one found this model run interesting on a number of levels and to me it opens the door (ever so slightly) for something to happen as we head into January. Right now I'm basically in the observation stage of this game.
There are number of things we know. First off beyond day 7 everything is suspect including the observation that the block in Scandinavia is going to be as strong as modeled. It is personally been my experience that you need to take a series of model runs and watch the evolution of the pattern to get a better idea of which way something is going to go.
One of the ensembles last night and actually they are pretty much on board with this idea of trough in the east ridge in the west evolving late next week. Now that are consistently seeing it inside day 10 by all the models is leading us to be more confident that the pattern we have been in which is ridge in the east and trough in the west is about to come to an end. Assuming this is the case, the next questions will be how long does it last and will be a pattern that you personally favor. Having everything in the right position is one thing. Having something substantial come out of that is quite another. Along with the GFS model, the European model and others seem all on board.
On the short range the radars are  showing the advancement of rain for today as one area sets up to the north and another approaches from the south for later today.
LATEST JOESTRADAMUS ON THE LONG RANGE
Weather App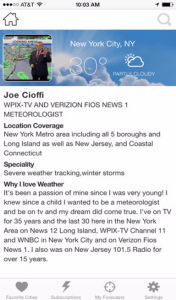 Winter is coming. Don't be without Meteorologist Joe Cioffi's weather app. It is a complete weather app to suit your forecast needs. All the weather information you need is right on your phone. Android or I-phone, use it to keep track of all the latest weather information and forecasts. This weather app is also free of advertising so you don't have to worry about security issues with your device. An accurate forecast and no worries that your device is being compromised.
Use it in conjunction with my website and my facebook and twitterand you have complete weather coverage of all the latest weather and the long range outlook.  The website has been redone and upgraded. Its easy to use and everything is archived so you can see how well Joe does or doesn't do when it comes to forecasts and outlooks.
Just click on the google play button or the apple store button on the sidebar for my app which is onMy Weather Concierge. Download the app for free. Subscribe to my forecasts on an ad free environment for just 99 cents a month.
Get my forecasts in the palm of your hand for less than the cost of a cup of Joe!