Frozen Record Lows Arctic Blast Snow Thursday
Frozen Record Lows Arctic Blast Snow Thursday
We had a slew of record low temperatures this morning in the mid single digits at all the reporting stations around New York City this morning. Most lows around the region were in the 0-10 degree range which is quite remarkable for this time of year. Today will be just another day in the Arctic wasteland with highs just in the teens and wind chills close to or below zero. At least we will have plenty of sunshine. Arctic air continues to overwhelm the East and the core of this cold air mass hits bottom this afternoon.
SATELLITE LOOP

REGIONAL RADAR

Radars are pretty quiet though every once in awhile some snow showers pop up in a few spots well inland but they won't amount to much if anything at all. It is back down into the single digits tonight under a clear sky. Warmer urban areas could hold on to low teens.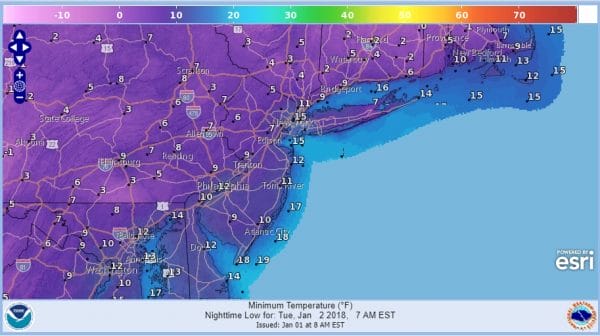 Tuesday we should see the upper teens to near or just over 20 with sunshine and then Wednesday we will see sun and arriving clouds with highs in the 20s.
THURSDAY SNOW THREAT FOR COASTAL AREAS
A major Atlantic Ocean storm will develop off the Florida coast Wednesday night and move northeastward up the coast and offshore. Right now my best guess is that IF this is going to be a threat it will be for coastal areas only from Coastal New Jersey to eastern areas of NYC Long Island eastward. Weather models last night were mixed on how this would play out and the overnight NAM model did indicate a west shift but it was so radical that we will wait to see what the new model runs put out as they begin their run shortly.
So out of whack is the atmosphere that heavy snows will fall in the Coastal Carolinas out of this. Regardless of snow another arctic blast follows for Friday and Saturday and this will produce temperatures near or below zero over much of the region. The good news is that after that air mass hits bottom we will moderate into next week.


GET JOE A CIGAR IF YOU LIKE 
FiOS1 News Weather Forecast For Long Island
FiOS1 News Weather Forecast For New Jersey
FiOS1 News Weather Forecast For Hudson Valley
LATEST JOESTRADAMUS ON THE LONG RANGE