Frosts & Freezes Warm Up Late Week And Subtropical Storm Development
After a sunny brisk and chilly afternoon we are headed into another cold night with various frost advisories and freeze warnings mostly away from the warmer urban centers so if you already have the delicate plants out throw some straw or mulch on them to keep them from getting freezer burn. This should be the last night of widespread frosts and freezes as we start warming things up a bit over the next few days. A weak upper trough is moving into the Northeast this evening with just some patchy clouds and nothing more. Eventually the clouds move out and skies should clear along with diminishing winds.
SATELLITE

REGIONAL RADAR

Wednesday is setting up to be a nice day of sunshine and temperatures should head into the 60s for highs. The core of this cold air mass is moving out and temperatures will continue to move higher Thursday and Friday.  Thursday we will see some sunshine and arriving clouds as a warm front begins to set up. The warm front actually sets up north of NYC this time around as winds go first south and then southwest. Highs Thursday will be in the 60s.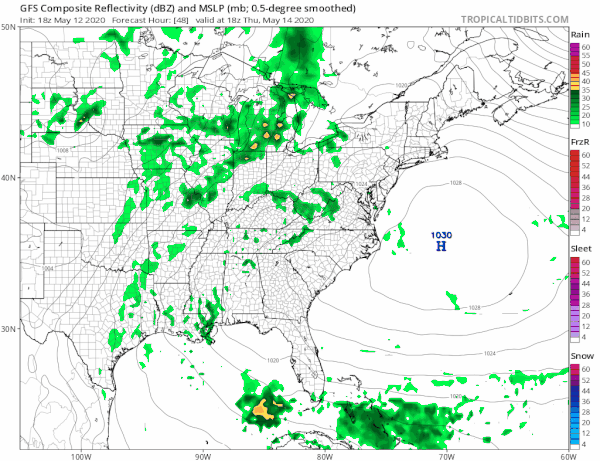 With the warm front already to our north most of the showers will move across Upstate NY and New England Thursday night leaving us in the warm sector on Friday. It will be a very warm day and above normal for a change with highs reaching the mid 70s to lower 80s in most places!
A cold front approaches Friday evening as the GFS loop above shows and with that some showers and thunderstorms are likely to move through. The cold front will pass and drop to our south, stalling out across the Mid Atlantic states on Saturday and then comes back northward Saturday night and Sunday.
As far as Saturday goes we will be optimistic and call for sunshine giving way to arriving clouds with highs ranging from the 60s along the coast and into the 70s inland. Saturday night and Sunday we deal with a warm front moving northward and a cold front moving eastward. Showers seem likely and perhaps a thunderstorm but I'm not yet sure whether this is going to be something that overwhelms the entire day with rain.
For the past several days we have mentioned about the possibility of subtropical storm development this weekend off the Southeast US coast and indeed the National Hurricane Center indicates that on a special tropical weather outlook the sent out earlier today. The GFS loop above shows the low developing in the Bahams just north of Cuba and then moving north northeastward over the weekend and into Monday. The odds would favor this staying offshore and not getting involved with the system already heading into the Northeast and for now that is the way we are playing it. The late day gfs run which are the loops above does seem to complicate things early next week with the subtropical system offshore but the frontal system overhead having a tough time making it through. We discuss these puzzle pieces tonight on the Joe & Joe Weather Show and of course we will address this further as we move along through the week.
MANY THANKS TO TROPICAL TIDBITS FOR THE USE OF MAPS
Please note that with regards to any severe weather,  tropical storms, or hurricanes, should a storm be threatening, please consult your local National Weather Service office or your local government officials about what action you should be taking to protect life and property.