The answer to the question is NO NOT HERE..NOT EVEN CLOSE!
Frost & Freeze (depending on location) will be the story this coming weekend as all the weather models have been signaling this for the last 4 or 5 days. Until then the weather will be undergoing changes with 2 cold fronts. The first will come through on Tuesday with a few showers followed by cooler temperatures that take us back down close to normal with some sunshine for Wednesday and Thursday. The second front comes through on Friday with the chance for showers. It is behind that front that we see the cold air come in for next weekend.
Both the GFS and the European models have the same idea with a big ridge in the west and a deep trough in the east. There really is no room for important storm development so it is just a simple cold front that moves through. Colder air begins to filter down Friday night and really takes over for Saturday and Sunday. I would not at all be surprised to see some areas on Sunday not get out of the 40s for daytime highs! Saturday night and Sunday morning would be the time frame for temperatures to drop close to freezing. Sunday night Monday morning might see the better chance for a widespread frost if we have clear skies and light winds
The gfs model tends to overstate the cold a bit as the other models are a few degrees higher but we will go with the general idea and deal with specifics on numbers at the end of the week.
Both models show the strong Canadian jet diving into the eastern states. There is no room for storm development so Friday we will see a cold front come through with perhaps a few showers and not much else. What we might see this weekend is the seasons first snow in parts of upstate NY and New England especially in elevated areas. In honor of this I am putting up the first snowfall forecast maps generated by the models mainly to get snow lovers excited over something!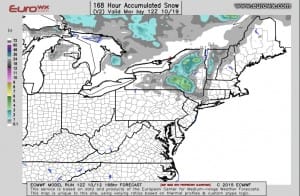 Take these with a grain of salt but given the cold air and the trajectory of the air mass coming down, there should be some rain/snow showers with this and maybe some snow in the higher elevations…AND THATS IT!!!
It will snow here too one day (hopefully not too soon) so when it does be ready by downloading my weather app and subscribing to my specific forecasts for New York, New Jersey, Pennsylvania, and Southern New England including Long Island and the Hudson Valley. The app is free and a subscription costs just 99 cents a month or less than a cup of delicious hot chocolate!