From Blast Furnace to Snow & Ice Threat Next Week?
The atmosphere can be a very fickle thing and weather history is loaded with instances of 70 degrees one day and snow the next. It can and does happen. Right now what we have is purely in a speculative phase but we do seem to have something underway for early next week that at the very least means a cold rain and it could mean a period of ice or even snow for places not that far away from the coast. Considering how extreme the warmth has been this month, if it does happen it will be nothing short of miraculous! The change to colder begins Sunday night and continues through Tuesday.
Here is the set up.  A large surface high will be building north of Lake Superior which forces a cold front through the northeast and into the middle Atlantic States. Cold air masses like this then to be shallow in nature so the bottom of the atmosphere can become pretty cold with warmer temperatures aloft. Such may be the case here.
What happens is the gfs takes a low into Southern Missouri and heads it into northern Ohio near Cleveland. The storm weakens over time as the high holds firm and forces a secondary low to form on the warm front. The key to all this is that high holding. We noted earlier that last night's European model  was a full 24 hours slower and took the high east to off the Northern New England coast which would basically argue for a cold but dry scenario into Tuesday with a cold rain to follow. Today's run is still slower but seems to want to hold the high in longer so we will have to watch to see if the model is caving to the GFS idea which is a colder and further south solution with every run.
The GFS has a "You have got to be kidding" moment on its run with all that snow so far south into Northern New Jersey and even to the coast. The European has the cheap thrill look idea. With regards to the gfs, i think at this point even if you wanted to accept the model at complete face value you have to at least cut the amounts in half. None the less it is something to watch as we bake in 70s tomorrow, 60s Friday, 50s Saturday, 60s Friday and low 40s on Monday!!! Many model runs to go people.
Now in honor of Christmas watch Joe's friend Dan Ribacoff who is the polygraph expert on the Steve Wilkos Show work with Santa and kids and whether they have been truthful about being bad or good! You can like him on facebook to!!! Enjoy and have a MERRY CHRISTMAS
Here is the latest long range video on the overnight GFS model
LATEST JOESTRADAMUS ON THE LONG RANGE
Weather App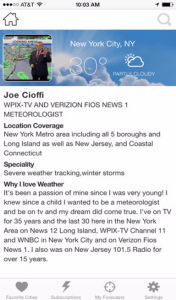 Winter is coming. Don't be without Meteorologist Joe Cioffi's weather app. It is a complete weather app to suit your forecast needs. All the weather information you need is right on your phone. Android or I-phone, use it to keep track of all the latest weather information and forecasts. This weather app is also free of advertising so you don't have to worry about security issues with your device. An accurate forecast and no worries that your device is being compromised.
Use it in conjunction with my website and my facebook and twitterand you have complete weather coverage of all the latest weather and the long range outlook.  The website has been redone and upgraded. Its easy to use and everything is archived so you can see how well Joe does or doesn't do when it comes to forecasts and outlooks.
Just click on the google play button or the apple store button on the sidebar for my app which is onMy Weather Concierge. Download the app for free. Subscribe to my forecasts on an ad free environment for just 99 cents a month.
Get my forecasts in the palm of your hand for less than the cost of a cup of Joe!