Forecast Major Winter Storm Update
As far as the threat for a major winter storm this weekend this is a good point to review a few things and update the forecast outlook.
FORECAST MAJOR WINTER STORM UPDATE…WHAT WE KNOW
What we know is that there will be a major winter storm for the Middle Atlantic States and Southern coastal  areas of the Northeast beginning later Friday in southern areas from Washington DC Baltimore and Philadelphia, to New York City and Long Island.
There will be coastal flooding and beach erosion issues for the coastline from Delaware northward through Coastal Southern New England.
There will be an area of 1 to 2 foot snows
There will be a sharp cut off of the snow where it goes from a foot of snow to six inches to an inch over a matter of miles
Winds will be gusting past 50 mph along the coast at times and there will be blizzard or blizzard like conditions in some areas.
WHAT WE DON'T KNOW
We don't know exactly where the boundries of the 1 foot plus snows will ultimately be. We think the greatest risk is for Long Island, Central New Jersey south of route 78 and points southward.
We don't exactly where the northern cut off line of the snow will be. Right now we think it will along or somewhere north of route 84 in New York State and Connecticut.
Forecast Major Winter Storm Update Snow Forecast Map
There are no changes in my snowfall forecast map issued this morning
I am well aware that my numbers could be too low in some places and too high in others. I think most of you understand that there could be a major storm with big snows and that it is quite possible that those of you in the 6 to 12 inches area could have numbers raised in southern areas and lowered in northern areas. I will update this map if necessary Thursday morning. The European forecast map above is from this afternoon. Based on the late afternoon GFS run I'm am making no changes. The model actually ticked up snow a little on the late afternoon run but it is in line with my views so I saw no reason to change anything.
NEW VIDEO ANALYSIS OF OVERNIGHT EUROPEAN
Long Island Snowfall Forecast
 NEW VIDEO ANALYSIS OF OVERNIGHT GFS
LATEST GFS DISCUSSION REGARDING MAJOR STORM THREAT
NATIONAL WEATHER SERVICE SNOW FORECASTS
LATEST JOESTRADAMUS ON THE LONG RANGE
Weather App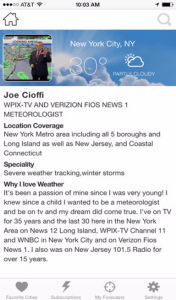 Winter is here! Don't be without Meteorologist Joe Cioffi's weather app. It is a complete weather app to suit your forecast needs. All the weather information you need is right on your phone. Android or I-phone, use it to keep track of all the latest weather information and forecasts. This weather app is also free of advertising so you don't have to worry about security issues with your device. An accurate forecast and no worries that your device is being compromised.
Use it in conjunction with my website and my facebook and twitterand you have complete weather coverage of all the latest weather and the long range outlook. The website has been redone and upgraded. Its easy to use and everything is archived so you can see how well Joe does or doesn't do when it comes to forecasts and outlooks.
Just click on the google play button or the apple store button on the sidebar for my app which is onMy Weather Concierge. Download the app for free. Subscribe to my forecasts on an ad free environment for just 99 cents a month.
Get my forecasts in the palm of your hand for less than the cost of a cup of Joe!