Flood Watch Posted Thursday Into Friday Morning Heavy Rains 1 to 2 Inches Forecast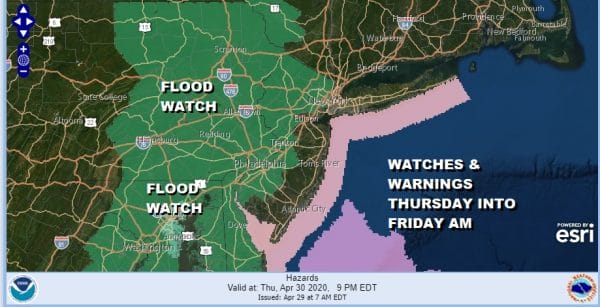 Flood Watches have been posted across the Mid Atlantic north to upstate NY with the eastern boundary into Northern and Western New Jersey and the western boundary is in Central Pennsylvania down to Maryland. First off no rain is expected today unless a passing renegade shower develops in isolated spots while the atmosphere begins to slowly moisten. We have an onshore flow that has developed with mostly northeast and east winds that will hold temperatures down today keeping them in the 50s in most places.
SATELLITE

It is not a solid overcast yet as the satellite picture shows. There are some breaks around that might allow for some sunshine. Low clouds will gradually develop later today and gray up the skies in time. Regional radar is not showing very much and should remain subdued today.
REGIONAL RADAR

We aren't going to see much tonight other than clouds and maybe an isolated passing shower. Temperatures will hold in the 40s to near 50. Then Thursday a Great Lakes storm and cold front begins to slide slowly eastward bringing a solid area of showers and thunderstorms with some heavy rain. This should start to develop from west to east later Thursday and last into early Friday.
The gfs model shows the issue here. The upper air trough is sliding east rather than lifting northeast into Canada. This slows the north south front down creating a long duration of slow moving showers and thunderstorms. This set up is different from the overrunning northeast wind system we dealt with this past Sunday into Monday. There will be a wall of heavy rain that will move through from west to east.
Forecast rainfall amounts of 1 to 2 inches will be coming on top of several inches that has fallen in the flood watch zone since last Friday so the ground is quite saturated. Temperatures will be in the 60s Thursday. Friday we will have to wait for the upper low to move through so there is the risk for a scattered shower or thunderstorm with highs in the 60s. We are still on course for a decent weekend though I don't think it will be picture perfect. We will speculate on the weekend later today.
MANY THANKS TO TROPICAL TIDBITS FOR THE USE OF MAPS
Please note that with regards to any severe weather,  tropical storms, or hurricanes, should a storm be threatening, please consult your local National Weather Service office or your local government officials about what action you should be taking to protect life and property.