Flood Watch Continues Severe Weather Threat Thursday Nice Weekend Ahead
We are starting to see some downpours and thunderstorms developing on the satellite and radar loops going into this evening. Unlike yesterday the thunderstorms are more scattered around or in small clusters so it will be a matter of whether you are being targeted or not. Clouds have been dominant today with some occasional brightening or some breaks of sun in a few areas. Given the saturated nature of the ground the flash flood watch continues into tonight with no changes from earlier.
SATELLITE

REGIONAL RADAR

While some of these thunderstorms are going to produce heavy rains, we are not expecting any severe weather to develop from all this today. Showers and downpours are moving to the northeast and will be impacting some of you during the evening commute.
LOCAL RADAR NEW YORK CITY
LOCAL RADAR PHILADELPHIA

All of this dies down tonight as we wait for Thursday's more robust storm system and upper trough that will likely trigger off thunderstorms and some severe weather later Thursday afternoon into Thursday night. The Storm Prediction Center has expanded its area of risk for Thursday pushing it further east into New Jersey to NYC and Western Long Island. It has also expanded the southern flank up and down the Eastern Seaboard.
Overnight into Thursday morning it will be warm and humid with most lows in the 60s. Thursday we will see some sun breaking through the clouds and this will send temperatures into the 80s across much of New Jersey and Pennslyania southward with 70s to near 80 to the northeast. This wave will pull the warm front northward to north of NYC which explains the expanded area of risk vs yesterday and Monday.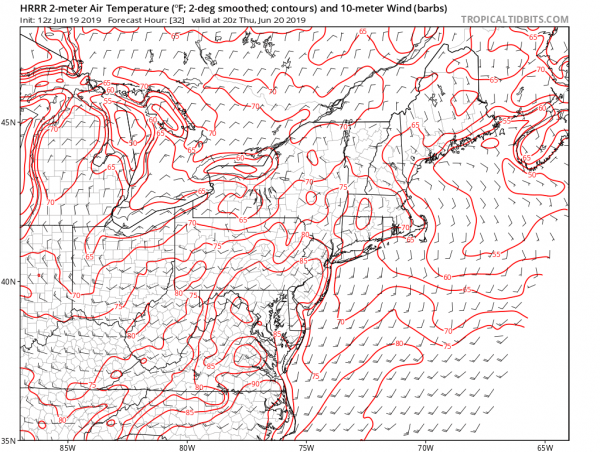 Once the cold front passes we could see some lingering rain here Friday morning as low pressure strengthens to our northeast. Winds will pick up from the northwest and the first day of summer will not feel very summery. We will see the rain pull out Friday morning with some clearing in the afternoon. Temperatures will be in the 70s with a developing gusty northwest wind.
Saturday should be a very nice day of sunshine, a gusty breeze especially in the morning and temperatures in the pleasant 70s to around 80 with low humidity. Sunday we will be nice as well as high pressure holds on. Sunshine is forecast for Sunday though there could be some patchy high clouds at times in the afternoon. Highs from the 70s along the coast to the lower 80s inland. It will be nice and pleasant for the first weekend of summer.
Monday brings the next warm front with the clouds and some sun with the chance for a shower or thunderstorm when the warm front goes by late in the day. Then we transition to warm summery  conditions into the middle of next week.
MANY THANKS TO

TROPICAL TIDBITS

FOR THE USE OF MAPS
Please note that with regards to any tropical storms or hurricanes, should a storm be threatening, please consult your local National Weather Service office or your local government officials about what action you should be taking to protect life and property.