Flood Watch Continues New Jersey Heavy Rains Flooding Likely
Flood Watch Continues New Jersey Heavy Rains Flooding Likely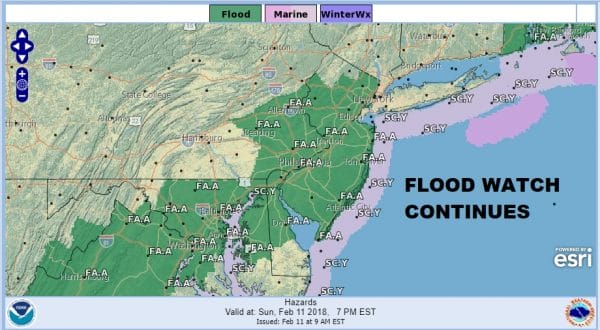 The flood watch continues for New Jersey and has been expanded somewhat in Southeast Pennsylvania. Rainfall amounts overnight have been on the order of 3/4 inch to an inch. Additional rainfall today could be on the order of the same amount doubling the totals.
FLOOD WATCH RAINFALL FORECAST SUNDAY
The US satellite picture this morning shows lots of clouds from the Gulf of Mexico northeast to New England and west to the Great Lakes. Another weather system has come into the Northwest US which should help move along the system in the east though the process will be rather slow.
US SATELLITE

REGIONAL RADAR

Regional radar show a solid area of rain from Southern New England to the Central Appalachians.  The southren boundary of this rain runs across the Delmarva Peninsula southwestward so it would seem that much of our area is lined up for rain all day long. Temperatures are in the 40s this morning with some warmer spots to the south closer to 50. The frontal boundary is inching eastward so that will impact temperatures today. South of that boundary in Southern New Jersey for example it could reach low 60s while areas north and west of the coast may not get out of the 40s.
LOCAL RADAR NEW YORK CITY
LOCAL RADAR PHILADELPHIA

During tonight the front will being to shift offshore as a wave of low pressure goes by. Rain should taper off and end overnight and the Monday weather conditions should slowly improve with clouds giving way to some sunshine though there will be some showers offshore and not that far away so  we will have to watch that in case this front takes longer to push offshore. Temperatures will be in the 40s. Tuesday will see clouds with some sun with temperatures in the 40s. Weather looks dry into Wednesday with some sunshine with highs each day into the 40s. The chance for rain or showers will be Wednesday night and Thursday as the next weather system makes its move east. There is still no cold air around to speak of and little sign in the long range pattern of any change in this.

GET JOE A CIGAR IF YOU LIKE 
FiOS1 News Weather Forecast For Long Island
FiOS1 News Weather Forecast For New Jersey
FiOS1 News Weather Forecast For Hudson Valley
LATEST JOESTRADAMUS ON THE LONG RANGE