Flood Warning New Jersey Severe Thunderstorms Developing
Flood Warning New Jersey Severe Thunderstorms Developing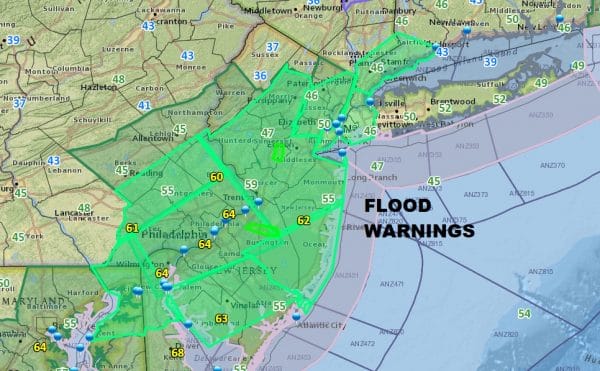 Virtually all of the state of New Jersey is under a flood advisory this afternoon. Flood Warnings are also beginning to appear over various counties. The rain has been especially heavy and we have some very heavy downpours and some thunderstorms developing on the local radars below.  Flood advisories are in effect also for areas in Southeastern NY & Southwestern Connecticut. The rain continues to move northeastward so look for thunderstorms late this afternoon moving into Eastern New Jersey as well as NYC, Long Island, the Hudson Valley & Southern New England. Notice the temperatures in South Jersey have reached the low 60s as a warm front has pushed northward. Rainfall amounts of 2 to 3 inches or more are likely before this is all said and done.
REGIONAL RADAR

LOCAL RADAR NEW YORK CITY
LOCAL RADAR PHILADELPHIA

All of this should be winding down later this evening or during the first part of tonight and weather conditions should improve on Monday though clouds and some showers could linger in Southern New Jersey Monday morning at least for a short time.

GET JOE A CIGAR IF YOU LIKE 
FiOS1 News Weather Forecast For Long Island
FiOS1 News Weather Forecast For New Jersey
FiOS1 News Weather Forecast For Hudson Valley
LATEST JOESTRADAMUS ON THE LONG RANGE