Flash Flood Watch Severe Weather Risk This Afternoon and Evening

Weather in 5/Joe & Joe Weather Show Latest Podcast
Flash Flood Watch Severe Weather Risk This Afternoon and Evening
We have an interesting and potentially problematic combination on the weather maps for later this afternoon  and evening. The Storm Prediction Center has our area now in a slight risk for severe weather which is up from a marginal risk earlier. In addition we also have a moderate risk of flash flooding which matches up almost perfectly with the slight risk for severe weather.
A warm front is to our north and we are in a very tropical air mass. Dew points are into the 70s. An upper trough is approaching and that will cause the warm front to drift southward as a cold front later today. To top it off we have an absolutely saturated ground thanks to the heavy rains of last week. All of this adds up to potential for thunderstorms that could easily cause some flash flooding with just an inch or so of rain. The potential is for double that amount in stronger thunderstorms
SATELLITE

In the meantime the sunshine is breaking through the clouds and heating up the atmosphere. Most highs today will be in the 80s with hot spots approaching 90 degrees. Keep an eye on the radars this afternoon as thunderstorms start to fire up.
WEATHER RADAR


Once we get through this this evening our cold front will stall out along the Hudson River to about NYC. This leaves most of the area very warm and humid south and west of that front but to the east across Southern New England and Long Island it puts that area in an onshore flow for Tuesday.
While Southeastern New England Tuesday sits in the 60s Southern Pennsylvania, Southern New Jersey and points southward will reach 90 degrees or higher. This sets up a second day of severe weather risk though on Tuesday the risk area is further south.
Wednesday we have another upper trough approaching into tropical air and on Wednesday the front will be back to our north. This will mean a third day of severe weather risk. It will also be a hot and humid day with highs reaching into the 90s in many locations away from the ocean. Late day thunderstorms are likely.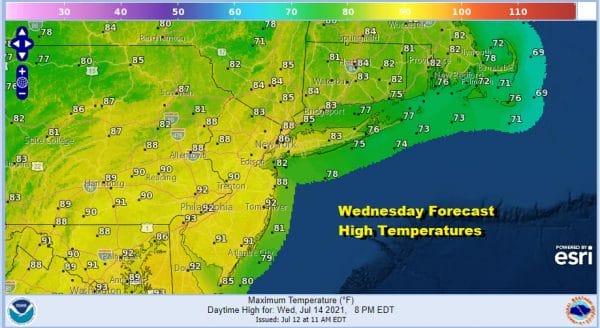 Thursday may be the one day this week where thunderstorms will be at a minimum but the other side of this is sunshine hot and humid conditions will take highs into the low and mid 90s. We will repeat that on Friday but there is a higher chance for thunderstorms late in the day.

Please note that with regards to any severe weather,  tropical storms, or hurricanes, should a storm be threatening, please consult your local National Weather Service office or your local government officials about what action you should be taking to protect life and property.