Flash Flood Watch Northern & Western New Jersey
Hudson Valley Eastern Pa Catskills

Rain has been the story this afternoon with the heaviest rain falling mainly west of New York City and the coast. Flash Flood Watches are up for Flash Flood Watch Northern & Western New Jersey Hudson Valley Eastern Pa Catskills. A weather front is swinging slowly eastward while a wave develops on that front. The radar shows most of the rain from earlier today to the north however to the south on the radar we have showers and some thunderstorms in the Middle Atlantic states. Those storms were severe in that area but clusters of these showers and thunderstorms are holding together enough to bring one more surge of rain this evening and tonight.
SATELLITE

WEATHER RADAR

In areas where the flash flood watches are up, the ground is saturated so it won't take much to produce localized flooding tonight as that rain moves through. Another inch or two of rain is possible in the watch area. The HRRR model and others bring up a cluster of heavy downpours that should pull out to the northeast after midnight.
Leftover clouds will remain for the rest of the night with lows mostly in the 40s. Friday and Saturday the issue will be a very strong upper air storm now over the Great Lakes that is crawling eastward. It will not be out of the way until Sunday. In the meantime we are left with a cold unstable atmosphere aloft. While we might see some start to start both days, clouds will develop. We will throw in the chance for some scattered sprinkles or showers Friday and Saturday. The chances aren't high but they will be relatively higher inland verses the coast. If you get one it should not last long.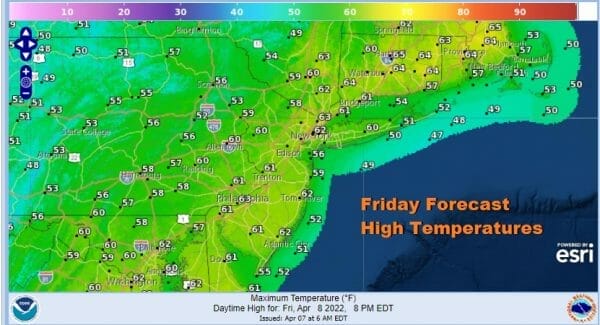 Friday highs will be in the upper 50s and lower 60s. It will be a little cooler on Saturday with highs in the mid to upper 50s. Sunday we should see more sun and fewer clouds with highs in the low to mid 50s. Once the upper trough pulls out we will look ahead to a ridge building in the Eastern US for the first half of next week.

The ridge in the East should allow warmer air to build into the Eastern US beginning Tuesday and lasting through at least Thursday or possibly Friday. What needs to be watched is whether a back door cold front moves south from Upstate NY and New England and limits the progression of warmer air northward. It would seem if we look at the European model that a backdoor could impact temperatures in New England but it will have little impact in areas from Southern Pennsylvania and Southern New Jersey southward. So it is the area in between that we will watch for temperature impacts thanks to an ocean based wind. It does seem that the impact may only be for a day or so, perhaps late Tuesday or Wednesday. Otherwise 70s are likely and 80s are also possible. We will wait to see how models settle out this issue in the coming days.
Please note that with regards to any severe weather,  tropical storms, or hurricanes, should a storm be threatening, please consult your local National Weather Service office or your local government officials about what action you should be taking to protect life and property.