FLASH FLOOD WATCH NEW JERSEY, NYC, HUDSON VALLEY
[brid video="56770″ player="6390″ title="FLASH FLOOD WATCH NJ NY TROPICS"]
FLASH FLOOD WATCH NEW JERSEY, NYC,
HUDSON VALLEY, & SW CONNECTICUT
After yesterday's and last night's rainfall amounts that exceeded 6 inches over parts of New Jersey and up to 4 inches over parts of the Hudson Valley, we have a FLASH FLOOD WATCH posted this morning
...FLASH FLOOD WATCH IN EFFECT THROUGH THIS EVENING...

THE NATIONAL WEATHER SERVICE IN UPTON HAS ISSUED A

* FLASH FLOOD WATCH FOR PORTIONS OF SOUTHERN CONNECTICUT...
  NORTHEAST NEW JERSEY AND SOUTHEAST NEW YORK...INCLUDING THE
  FOLLOWING AREAS...IN SOUTHERN CONNECTICUT...NORTHERN FAIRFIELD
  AND SOUTHERN FAIRFIELD. IN NORTHEAST NEW JERSEY...EASTERN
  BERGEN...EASTERN ESSEX...EASTERN PASSAIC...EASTERN UNION...
  HUDSON...WESTERN BERGEN...WESTERN ESSEX...WESTERN PASSAIC AND
  WESTERN UNION. IN SOUTHEAST NEW YORK...BRONX...KINGS
  (BROOKLYN)...NEW YORK (MANHATTAN)...NORTHERN NASSAU...NORTHERN
  QUEENS...NORTHERN WESTCHESTER...ORANGE...PUTNAM...RICHMOND
  (STATEN ISLAND)...ROCKLAND...SOUTHERN NASSAU...SOUTHERN QUEENS
  AND SOUTHERN WESTCHESTER.

* THROUGH THIS EVENING

* THE LOCAL AREA WILL LIE JUST NORTH OF A WARM FRONT TODAY IN A
  MOISTURE LADEN AIRMASS. SHOWERS DEVELOPING OVER THE AREA THIS
  MORNING COULD PRODUCE HEAVY RAIN AT TIMES WITH SOME EMBEDDED
  THUNDERSTORMS. HOWEVER...INCREASING INSTABILITY IN COMBINATION
  WITH COPIOUS MOISTURE AND A BOUNDARY NEARBY THIS AFTERNOON HAS
  THE POTENTIAL FOR ADDITIONAL SHOWERS AND THUNDERSTORMS TO
  DEVELOP AND TRACK OVER THE SAME AREA WHICH COULD LEAD TO FLASH
  FLOODING.
In addition we have a FLASH FLOOD WARNING FOR PARTS OF OCEAN & BURLINGTON COUNTIES
THE NATIONAL WEATHER SERVICE IN MOUNT HOLLY NJ  HAS ISSUED A

* FLASH FLOOD WARNING FOR...
  CENTRAL OCEAN COUNTY IN SOUTHERN NEW JERSEY...
  EAST CENTRAL BURLINGTON COUNTY IN SOUTHERN NEW JERSEY...

* UNTIL 1100 AM EDT

* AT 703 AM EDT...DOPPLER RADAR AND AUTOMATED RAIN GAUGES INDICATED
  HEAVY RAIN FALLING ACROSS THE WARNED AREA. UP TO THREE INCHES OF
  RAIN HAVE ALREADY FALLEN. FLASH FLOODING IS EXPECTED TO BEGIN
  SHORTLY.

* SOME LOCATIONS THAT WILL EXPERIENCE FLOODING INCLUDE...
  TOMS RIVER...BEACHWOOD...PLEASANT PLAINS...WHITING...
  CEDAR GLEN LAKES...HOLIDAY CITY SOUTH...HOLIDAY CITY-BERKELEY...
  PINE RIDGE AT CRESTWOOD...OLD HALFWAY...BAMBER LAKE...
  LEISURE VILLAGE WEST-PINE LAKE PARK...LEISURE VILLAGE EAST...
  SOUTH TOMS RIVER...ISLAND HEIGHTS...CRESTWOOD VILLAGE...
  HOLIDAY HEIGHTS...HOLIDAY CITY AND SILVER RIDGE.

ADDITIONAL RAINFALL AMOUNTS OF UP TO 3 INCHES ARE POSSIBLE IN THE
WARNED AREA.


Radars this morning show last night's rain has moved well to the north however new downpours developed across Central New Jersey this morning. Over the course of the day weather models show different outcomes regarding downpours and where they develop. Some favor the Hudson Valley while others show heavy rains over the Hudson Valley and New Jersey as well. Given we are north of a warm front I think the best approach is to just watch the radars. Weather models keep changing the profile of the heavy rains from run to run. Short term models remain highly volatile and unreliable. Downpours are capable of producing a quick 1 to 3 inches of rain if they sit around long enough. After the rains of the last 24 hours, it won't take much to cause some flooding.
JOESTRADAMUS HURRICANE SEASON GUEST FORECAST
FiOS1 News Weather Forecast For Long Island
FiOS1 News Weather Forecast For New Jersey
FiOS1 News Weather Forecast For Hudson Valley
LATEST JOESTRADAMUS ON THE LONG RANGE
Weather App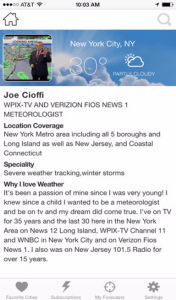 Don't be without Meteorologist Joe Cioffi's weather app. It is really a meteorologist app because you get my forecasts and my analysis and not some automated computer generated forecast based on the GFS model. This is why your app forecast changes every 6 hours. It is model driven with no human input at all. It gives you an icon, a temperature and no insight whatsoever.
It is a complete weather app to suit your forecast needs. All the weather information you need is right on your phone. Android or I-phone, use it to keep track of all the latest weather information and forecasts. This weather app is also free of advertising so you don't have to worry about security issues with your device. An accurate forecast and no worries that your device is being compromised.
Use it in conjunction with my website and my facebook and twitter and you have complete weather coverage of all the latest weather and the long range outlook. The website has been redone and upgraded. Its easy to use and everything is archived so you can see how well Joe does or doesn't do when it comes to forecasts and outlooks.
Just click on the google play button or the apple store button on the sidebar for my app which is on My Weather Concierge. Download the app for free. Subscribe to my forecasts on an ad free environment for just 99 cents a month.
Get my forecasts in the palm of your hand for less than the cost of a cup of Joe!
MENTION JOE CIOFFI AND GET A 5% DISCOUNT