Flash Flood Watch Heat Advisory Another Steamy Day Weekend Looks Cooler
I Woke up to a noisy surprise this morning with a rather heavy thunderstorm at 5am with lots of lightning and thunder. It was a small area that moved right over me and then moved out. Now we are back for another steamy day of sunshine, high humidity and the chance for a scattered thunderstorm. Highs will be in the upper 80s to around or just over 90 degrees. This should be the last 90 degree high day for awhile as we have some changes underway. Heat advisories are up to state the obvious.
SATELLITE

REGIONAL RADAR

There isn't much on the satellite as far as clouds go nor is there much in the way of thunderstorms on the radar. This is in spite of the fact we have a weak cold front moving through. It is after the front passes and stalls offshore that we will have to start thinking about some scattered showers beginning overnight in some areas and more widespread on Thursday.
LOCAL RADAR NEW YORK CITY
LOCAL RADAR PHILADELPHIA

Flash Flood Watches are up for areas from the Hudson Valley south across much of New Jersey, Southeastern Pennsylvania, Maryland & Delaware. The watch was expanded somewhat to include additional counties in Northern New Jersey as well as the Hudson Valley. It isn't that we are going to see a lot of rain from this. The problem is the saturated ground in many inland areas from Tropical Storm Izaias and other thunderstorms we have seen since. The threshold for flash flooding remains low.
Also there will be a northern cut off to the rain area as higher pressures start building south from Southeastern Canada. Look for cloudy skies Thursday into Friday with some patchy showers. As the GFS shows the steadier rain will be south of NYC.
At the very least it will keep the area in clouds and that will hold temperatures back on Thursday. Areas north of NYC might have less cloud cover and more breaks of sun so higher temperatures will occur there. Most highs will reach the lower 80s on average. The same holds for Friday but high pressure to the northeast will start building southward and this could mean for some improvement later Friday from north to south. So lets call it lots of clouds for now and wait and see what happens after that.
The building high to the north should suppress clouds to the south and leading to what should be a decent day of some sunshine. Mostly sunny skies will likely occur Northeast Pa to Southern New England northward. Areas to the south might struggle with more clouds. All areas will have a northeast to east wind and that holds temperatures in the upper 70s and lower 80s in most places.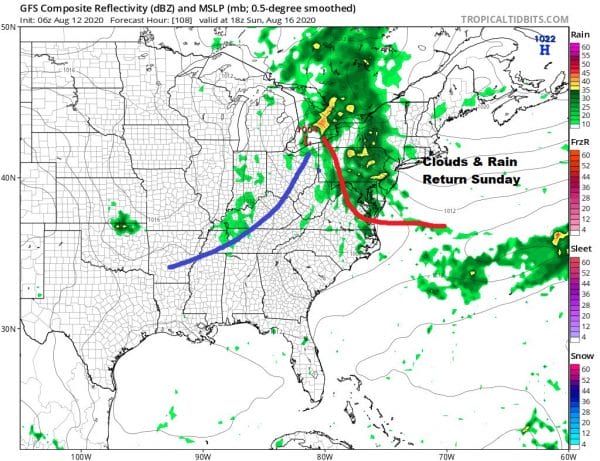 The stalled frontal boundary to the south comes back northward Sunday as low pressure heads to Lake Erie. This looks to set up for clouds and a soaking rain later Sunday into Sunday night and early Monday when low pressure exits to the east.
MANY THANKS TO TROPICAL TIDBITS FOR THE USE OF MAPS
Please note that with regards to any severe weather,  tropical storms, or hurricanes, should a storm be threatening, please consult your local National Weather Service office or your local government officials about what action you should be taking to protect life and property.