FLASH FLOOD  & FLOOD WATCHES NORTHERN HALF OF NEW JERSEY, NYC
WESTERN LONG ISLAND SOUTHWESTERN CONNECTICUT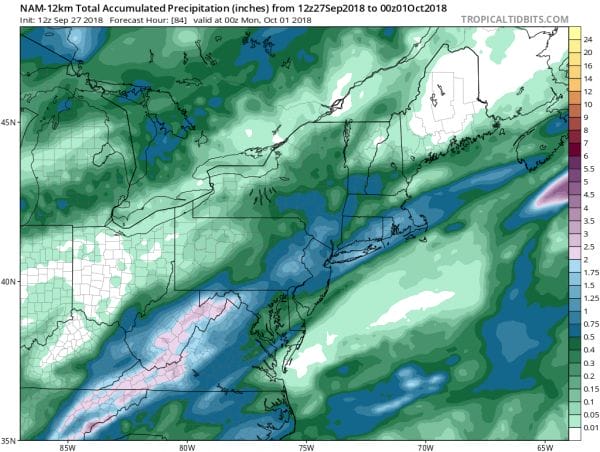 Weather models this afternoon maintain a rather bullish scenario for rain that arrives tonight from south to north and ends Friday morning from west to east. The NAM model shows about 1 to 1.5 inches of rain with isolated amounts to 2 inches. We saw the other day how rainfall amounts wound up being more than double what was modeled and there is definitely some room for upside here with rainfall totals. This has prompted the National Weather Service to post Flood Watches & Flash Flood Watches for much of the area and those watches have been extended to include Northeastern New Jersey, the Hudson Valley, Southwestern Connecticut, NYC & Western Long Island
No doubt the flooding threshold is low thanks to the nearly 1/2 foot of rain that fell in parts of the area 2 days ago. Rivers and streams are running very high so an inch or 2 of rain will be enough to cause problems.
We did manage to break out into some sunshine this morning in many areas but clouds are beginning to move northeastward and increasing.
EASTERN SATELLITE

REGIONAL RADAR

Radars are showing a large area of rain in West Virginia and Western Virginia moving northeastward. Some rain could begin arriving in Southeastern Pennsylvania and Southern New Jersey during the later portion of the evening commute and then the rain will overspread the rest of New Jersey and Eastern Pennsylvania to Southern New England overnight. The morning commute will feature moderate to heavy rain so be sure to give yourself some extra time.
LOCAL RADAR NEW YORK CITY
LOCAL RADAR PHILADELPHIA

Rain should end from west to east Friday morning with leftover clouds in the afternoon. Highs will be in the 60s to near 70.  Nothing changes regarding the weekend forecast. We should see lots of sunshine Saturday and Sunday with temperatures both days in the low and mid 70s with no rain. The weather next week looks dry into Thursday with warmer temperatures into midweek. Humidity will come up but we won't be seeing the ridiculously high dew points this time around as tropical air will be cut off to some degree.  No major storms or rainfalls are likely after whatever we get overnight into Friday morning.
SUBSCRIBE TO PATREON FOR A WEATHER EXPERIENCE FREE OF ADS, EXCLUSIVE VIDEOS FOR MEMBERS ONLY AND MUCH MORE…STARTS AT $2 A MONTH..MESSAGE ME AT ANY TIME

MANY THANKS TO

TROPICAL TIDBITS

FOR THE USE OF MAPS
Please note that with regards to any tropical storms or hurricanes, should a storm be threatening, please consult your local National Weather Service office or your local government officials about what action you should be taking to protect life and property.
LATEST JOESTRADAMUS ON THE LONG RANGE