Flash Flood Watch Continues Eastern Pennsylvania, New Jersey,
Southeast NY, Hudson Valley, Long Island

Flash Flood Watches continue today from Eastern Pennsylvania to New Jersey, the Hudson Valley, Southern & Southeastern New England, NYC & Long Island. Overnight the rain has had a tough time advancing southeastward and there has been very little in Central and South Jersey and also Long Island. On the other hand, rain has been heavy in Eastern Pennsylvania, the Hudson Valley to Connecticut to Southeastern New England where 2 to 4 inches of rain has fallen in many areas and we have seen some flash flood and flood warnings overnight from time to time.
Those areas that missed out overnight will catch up today while inland areas will see an additional 1 to 2 inches of rain or more on top of the rain that has already fallen. A very slow moving front and a wave developing on that front are the drivers today with regards to rainfall.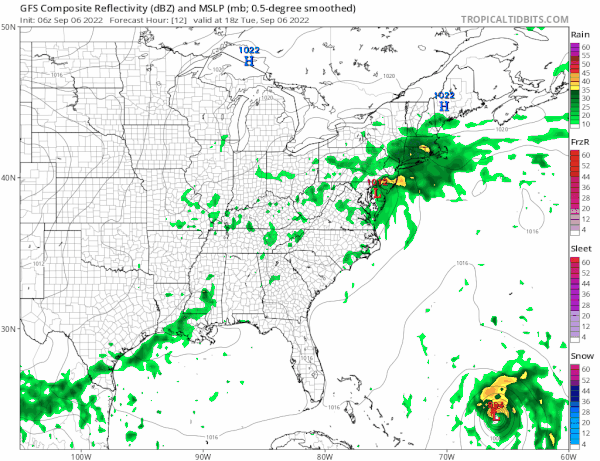 The wave will eventually move off the New Jersey coast tonight and force the front southward. Rain will start to taper off from northwest to southeast tonight ending first in Eastern Pennsylvania and lingering on Long Island and Coastal New Jersey on Wednesday. Temperatures through all of this will be in the upper 60s and lower 70s. Improvement will be slow as we will be left with an onshore flow through Friday but we should see clouds give way to some breaks of sunshine Thursday and we will see some sunshine Friday. Offshore we have tropical storm Earl which will become a hurricane as it heads northeastward over the next two days. It will actually help to bring dew points down late this week and keeping temperatures in the 70s Thursday and the 70s to near 80 Friday. Right now the weekend is looking okay with sunshine Saturday and some sunshine Sunday. Highs should reach back into the lower 80s in most places both days.
Please note that with regards to any severe weather,  tropical storms, or hurricanes, should a storm be threatening, please consult your local National Weather Service office or your local government officials about what action you should be taking to protect life and property.