FLASH FLOOD WATCH CENTRAL & SOUTH JERSEY
FLASH FLOOD WATCH CENTRAL & SOUTH JERSEY
…FLASH FLOOD WATCH IN EFFECT FROM FRIDAY AFTERNOON THROUGH
SATURDAY AFTERNOON…
The National Weather Service in Mount Holly has issued a
* Flash Flood Watch for portions of Delaware, northeast
Maryland, New Jersey, and Pennsylvania, including the
following areas, in Delaware, Delaware Beaches, Inland Sussex,
Kent, and New Castle. In northeast Maryland, Caroline, Cecil,
Kent MD, Queen Annes, and Talbot. In New Jersey, Atlantic,
Atlantic Coastal Cape May, Camden, Cape May, Coastal Atlantic,
Coastal Ocean, Cumberland, Eastern Monmouth, Gloucester,
Mercer, Middlesex, Northwestern Burlington, Ocean, Salem,
Southeastern Burlington, and Western Monmouth. In
Pennsylvania, Berks, Delaware, Eastern Chester, Eastern
Montgomery, Lower Bucks, Philadelphia, Upper Bucks, Western
Chester, and Western Montgomery.
* From Friday afternoon through Saturday afternoon
* Showers and thunderstorms with heavy rain will develop starting
Friday afternoon and will first move into northeast Maryland,
Delaware, southeast Pennsylvania, and southern New Jersey,
before lifting north towards central New Jersey. Additional
waves of showers and thunderstorms with heavy rain will then
continue to impact these same areas Friday night through
Saturday afternoon. Rainfall amounts during this time will
generally range from 2 to 4 inches, but training of
thunderstorms may result in significantly higher amounts.
* Heavy rain falling in a short period of time will result in
rapidly rising water levels along streams and creeks and in
areas of poor drainage. Significant roadway flooding may occur.
It is also important to note that heavy rain will fall over
areas that already received several inches of rain early this
week, so it will not take much for flooding to occur.
The National Weather Service has posted a Flash Flood Watch for the southern half of New Jersey along and South of Route 195 and through much of the southern half of Pennsylvania along & south of Route 78. Rainfall from this coastal low will be substantial and it comes over an area that has seen significant rain over the last couple of weeks so it won't take much to cause flooding. 2 to 3 inches of rain is likely and some models are producing isolated excessive amounts of 4 inches or more but forecasting this exactly is almost impossible. Rainfall amounts north of this area should be less but a slight northward shift could bring rains further north and open the door to the potential for Flash Flooding.
For areas where the Flash Flood Watch is posted which extends from Southern New Jersey westward and southward,  some rain will develop during the day Friday. The NAM model this afternoon has a fair depiction of what radars should look like later Friday into Saturday.
FLASH FLOOD WATCH CENTRAL & SOUTH JERSEY CLICK TO ANIMATE
The NAM 3 is on the extreme side of the rainfall. Given the dynamics we will be dealing with excessive amounts for somebody are possible. The NAM 3 also pushes the northern extent of the heavy rain further north to Northern New Jersey (except the Northwest) and over NYC & Long Island. This needs to be watched closely.
Timing remains for rain to start mid to late afternoon South Jersey and then spread northward to NYC by midnight with very heavy rains into Saturday morning. Saturday afternoon the northern area of the rain moves northeast but in Central & Southern New Jersey the rains continue for the rest of the day.
All of this is going to hang on the behavior of the upper air storm system and the resulting surface low. The moisture inflow off the Atlantic is strong on all models. It is a matter of how far north the heavy rains get. The slow moving upper air storm lingers along the coast which means that clouds at least linger into Sunday and so does the chance for lingering showers.
MANY THANKS TO TROPICAL TIDBITS FOR THE WONDERFUL USE OF THE MAPS
GET JOE A CIGAR IF YOU LIKE!
LANDSCAPE COMPANIES FOR YOUR SPRING SUMMER FALL NEEDS
             LONG ISLAND                                ROCKLAND COUNTY                   Connecticut
     ROCKLAND COUNTY                         TRI STATE SNOW REMOVAL                           JOHNSTOWN PA
FiOS1 News Weather Forecast For Long Island
FiOS1 News Weather Forecast For New Jersey
FiOS1 News Weather Forecast For Hudson Valley
NATIONAL WEATHER SERVICE SNOW FORECASTS
LATEST JOESTRADAMUS ON THE LONG RANGE
Weather App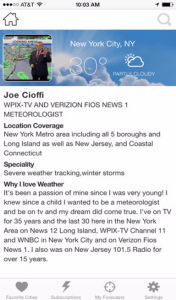 Don't be without Meteorologist Joe Cioffi's weather app. It is really a meteorologist app because you get my forecasts and my analysis and not some automated computer generated forecast based on the GFS model. This is why your app forecast changes every 6 hours. It is model driven with no human input at all. It gives you an icon, a temperature and no insight whatsoever.
It is a complete weather app to suit your forecast needs. All the weather information you need is right on your phone. Android or I-phone, use it to keep track of all the latest weather information and forecasts. This weather app is also free of advertising so you don't have to worry about security issues with your device. An accurate forecast and no worries that your device is being compromised.
Use it in conjunction with my website and my facebook and twitter and you have complete weather coverage of all the latest weather and the long range outlook. The website has been redone and upgraded. Its easy to use and everything is archived so you can see how well Joe does or doesn't do when it comes to forecasts and outlooks.
Just click on the google play button or the apple store button on the sidebar for my app which is on My Weather Concierge. Download the app for free. Subscribe to my forecasts on an ad free environment for just 99 cents a month.
Get my forecasts in the palm of your hand for less than the cost of a cup of Joe!