A noticeable change outside this morning if you haven't been outside. We have a backdoor cold front that moved through yesterday evening. Deep blue skies and sunshine will be with us all day today but so will the north northeast wind which is a cold wind around here. Temperatures in the Hudson Valley today probably won't get out of the 40s.
Satellite loop shows the effect of the upper ridge in the east with all the sinking dry air. The ridge is like a brick wall keeping the moisture and clouds to the west at bay. The ridge begins to breakdown on Wednesday and then the clouds will begin their advance. Radar remains quiet.
FiOS1 News Meteorologist Brian Fitzgerald has all the latest on this.
We are going to see the high pull offshore on Wednesday and winds will start to go around to the east, then southeast and finally south Wednesday night and Thursday ahead of a cold front. Thursday it is likely to get rather gusty with the south wind and the question is how much shower activity will hold together as the front moves through. We are really hoping for a good 6 to 8 hours of showers and heavy downpours. The rainfall deficit in some places is running at about 10 inches. The problem is the below normal deficit has been building for 6 months and even though the rainfall of the last 2 months has been near normal, It doesn't make up the difference. We would have to run double the normal rainfall for three or four months just to pull even. Snow cover this winter becomes more important for building water supplies for the spring and summer. The hope is that we can get at least an inch of liquid for everyone out of this system.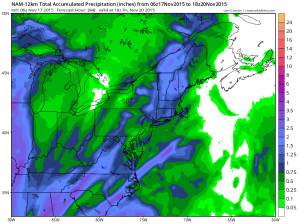 Models have backed off a little bit keeping most rainfalls under 1 inch into Thursday evening but there could be a little more to go beyond 7pm Thursday.
After the Thursday begins the path to a shot of cold air for later in the weekend and for early Thanksgiving week. More on this later today including the possibility of some snow showers on Sunday as the cold air arrives.
LONG RANGE FORECAST FROM OVERNIGHT: JOESTRADAMUS